In true Canadian fashion I am going to complain about the weather. Because quite honestly it effin' stinks at the moment. It's been too rainy and gloomy these past few weeks in the T Dot (Toronto). I get that it's spring - but seriously it's May 27th and we are still forced to wear sweaters and sometimes even scarves. I often wonder why our ancestors decided to reside in a place that has unpredictable weather and is completely intolerable for eights months of the year. It's beyond me. Yet I still live choose to live here so I have to suck it up. But I daydream of hot sweaty summer days consistently.
When I start to get really bummed about the weather I force myself to think about all the warm, sunny, tropical places I have been. Usually my imagination fails me so I riffle through old vacation pictures. Today I did a lot of this and I came across this picture of Steve and I and it made me smile and forget about the gross weather. Mission accomplished!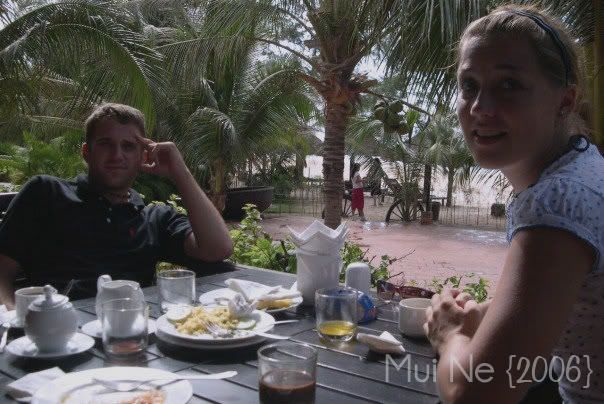 This picture was taken on our last vacation before we moved home (to Canada) from Vietnam. This vacation spot is my absolute favourite place in the world. Each time I visit (I've
only
been four times) I fall more and more in love with it. Each visit it changes, grows, develops. Each visit the weather is more awesome than before. Each visit fills my heart with joy. This place is called
Mui Ne
, it's a small coastal town/fishing village about four hours North-East of Ho Chi Minh City, and it's literally the best.place.on.earth.