{C} Ceremony
The last two weeks leading up to the wedding I stalked the weather network app on my desktop - with the 14 day trend view - religiously. Since the moment we decided on a destination wedding - I was getting married on the beach, in the sand, with the ocean as our backdrop. There was no other option. I am not a woman who takes many risks and since I was certain that it was not going to rain on our wedding day this didn't seem like much of a risk (or so I told myself).
On the morning of the wedding - I can't even begin to tell you how many times I looked out our hotel room window. I assessed every greyish-looking cloud in the sky. Tried to calculate which way the wind was blowing (which was every way possible - with all it's might). By 10:00 a.m. (time for my hair appointment) I was positive that mother nature was once again going to come through for me. We've made some deals in the past - we're pretty tight.
During the time I was getting my hair done - the wedding coordinator had called Steve and informed him that she was positive that our 2:00 p.m. ceremony would be rain free. Phew! However - she also informed him that the wind was fairly strong and suggested we consider getting married on the terrace. Umm..really?! She left this decision with my future husband? Luckily he knows me pretty well and told her that he was not going to be responsible for making that choice. She promptly found me in the hair salon - and I said "It's just a little wind ...?!" - famous last words!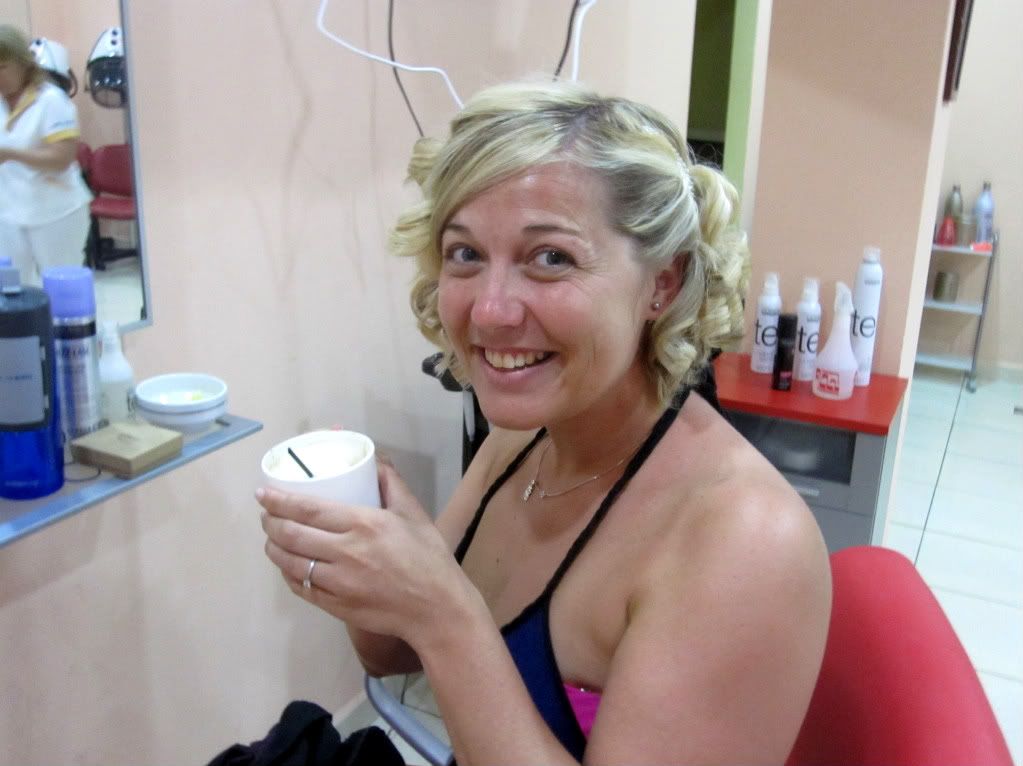 Just found out that it wasn't going to rain - probably the first time I smiled all morning
I didn't realize how much wind there was until I arrived at the ceremony location and the only way to describe the wind is -well- to say it was effin' windy. I wasn't sure how my hair was going to hold up - I was positive that my curls would have been ruined. They weren't. Amazing right? I had brought my own hairspray (since it's difficult to get some products in Cuba) -
John Fredia - Frizz-Eaze Moisture Barrier Firm Hold Hairspray
(probably the best product I have ever bought) despite the crazy wind - my hair never even moved. I highly recommend it.
So on March 3, 2011 - Steve and I were married on Varadero Beach in Cuba (Longitude: -81.174233-Latitude: 23.188967 - if you want to map it out or just check out
Google maps
). Just as planned. Needless to say I am overjoyed (wind or no wind) that we were able to celebrate that special moment on one of our favourite beaches in a country that we love. I also appreciate that our guests were able to tolerate sand in their faces and (other crevices) so we could be wed in one of the most beautiful places. Thankfully for them - the ceremony was short and sweet!

Missing something? Get caught up here as I recap our wedding, from A-Z.