{D} Dress
Eeeeppp - you have no idea how excited I am that I get to dedicate this post to my dress. Whenever I think back to our wedding [and my dress] I always smile. Whenever someone comments on how gorgeous my dress was - I want to shout "I know right?!" I try to not sound overly humble - but truth be told I really love my wedding dress and it is gorgeous. It was more perfect that I ever imagined. It hit all my curves the right way. It made me feel beautiful. I mean who feels ugly in a wedding dress anyway?
If there was a piece of advice that I wish I took from past brides, it would have been to start looking for my dress sooner than three months before the wedding. This probably made many past brides gasp! Or even faint. That's right - with 3 months to the day to go - I decided that I should probably get my dress sorted. So Jen and I went out with my only intention to browse. Seriously this should have happened at least three months prior. But miraculously the dress I bought was the second dress I tried on and the first one I chose from the bazillion others in the shop. It was also in my size - with a few alterations required in the hips [I've got some junk in the trunk]. So all within an hour and a half - I had chosen and purchased my [perfect] wedding dress.
I love so many things about this dress - but my favourite part was the ruffly strap. I am a woman who loves loves loves ruffles. But I also love the ruching - perfect for hiding my lumps and bumps. I love the corset back. This dress has a small train - but I had the seamstress create a french bustle. I never bothered unbustling to let the train out. It looked amazing all bustled up. Don't you agree?
I love this dress so much that I want to do dishes in it. I want to watch TV wearing it. I could even sleep in it. Hopefully one day we will renew our vow's and I will get to wear it again. For now these pictures help me remember the day I felt I looked perfect. The day Steve told me I had never looked better. The day I became this mans wife.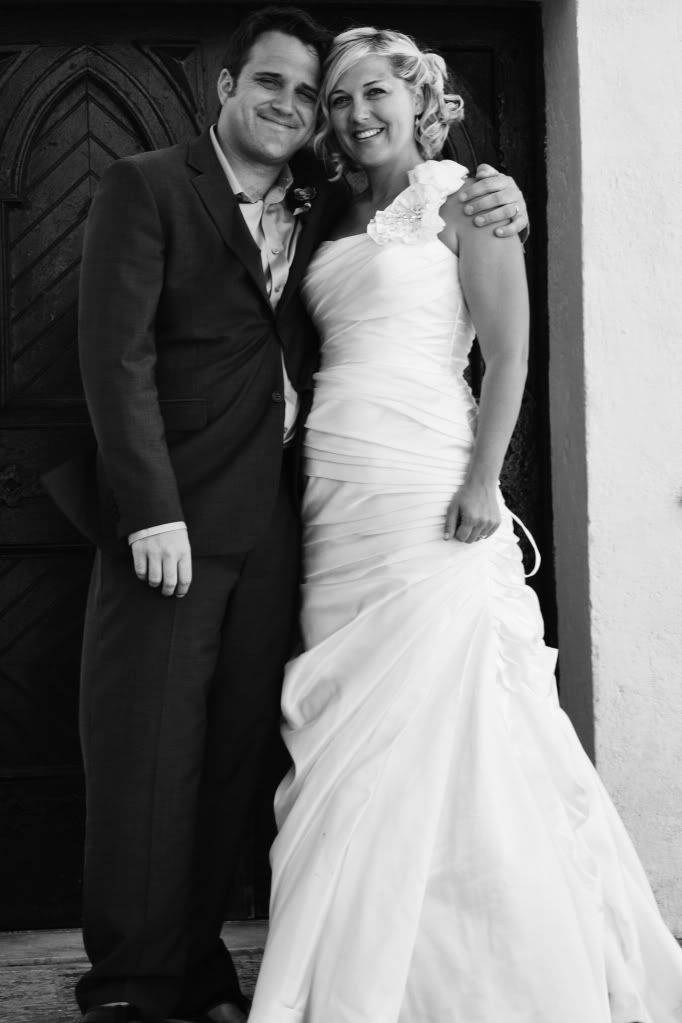 Missing something? Get caught up here as I recap our wedding, from A-Z.