Oh yes! Hello dear sweet blog. I nearly forgot your existed. My life the past month seemed so hectic - that each time I came to post - I fell asleep halfway through. I seriously have about 10 half-finished posts. Maybe I will finish them one day?! But let's be honest - I probably never will.
I don't want to dwell on the craziness of the past month - let's just sum it up that I was on hiatus. I mean new bloggers to the blogging world are allowed to take hiatuses, right? I sure hope so. I suppose I have some excuses regarding my absence - it's summer in Canada. July and August is a time when Canadians are able to experience two months of solid weather and forget about the other ten months that we spend in hibernation. Mother nature graced us with some crazy heat a few weeks back - everyone complained in true Canadian fashion. I even complained - a lover of the heat. Where was I going with this? Oh yeah - so I have been trying to spend as much time outside as possible. Visiting local patios, boating with family, or sitting in front of my fan wishing I could go outside. There hasn't been much time left in the day to tell you wonderful people what's up. I am sorry.
With that said I am determined to keep this blog active for at least a year - I want to remember what happened during our first year of marriage. I want a place to dump my thoughts. A place to share my creations. A place to share old memories. It's good for me. It's good for my brain.
Speaking of memories - I stumbled upon an old photobucket site of mine from when Steve and I lived in Vietnam. I found this picture. This picture was taken from our very first apartment on the tenth floor. The view is amazing. The memories it evokes - even more so.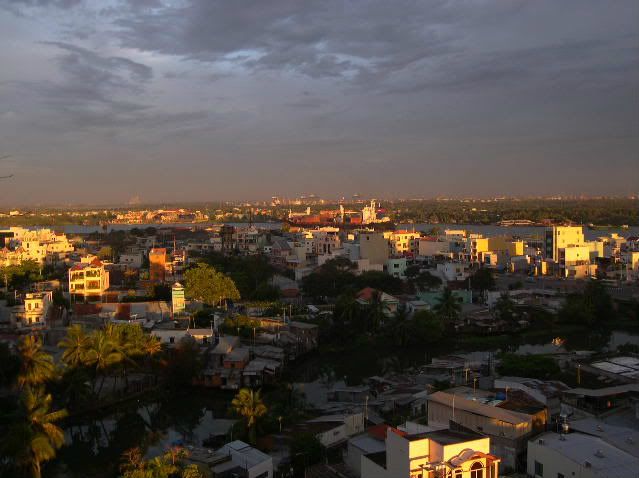 So I want this blog to be the same as that old photobucket site. I want a place to stumble upon and find pictures of this - and realize that I still have this to come home to a bazillion years later. It makes my heart happy.