It's Wednesday. It's (like most peeps) my favourite day of the week. So why not share some of the things I am loving because it would be way to easy to tell you about all the things I am not loving, but let's keep positive.
I am loving
that fall is literally just around the corner. I love almost everything about fall. The only thing I don't love is the season that follows it. But all the amazingness of fall makes it worth it. The fall colours. Fall fashion. Brisk walks with red cheeks. Have I talked about this before? The fall harvest and all the delicious food we get to be thankful for during Thanksgiving. Caramel Apple Spice lattes from Starbucks. It tastes like liquid apple pie. Oh and delicious, delicious apple pie. Yes it's true folks. A lover of the heat, the sun, the greatness of summer actually prefers fall to any other season. Can you blame me really?
I am excited
that the
Toronto Vegetarian Association
is running the
BeVeg
Campaign again this coming October 2011 in the Toronto Subway, but this time it's planned to be bigger and better. When I first chose to cut meat out of my diet I used the Toronto Vegetarian Association's website as a constant resource. It was my bible so I am super excited that they are launching a new BeVeg website full of more resources. Since I will admit it - I am a lazy vegetarian!!
I am loving
that my lovely sister-in-law, Momma, from
Live Laugh Pull Your Hair Out
, is trusting my lower-than-beginner level graphic design skills and is allowing me to redesign her blog. I mean like get-right-into-the-guts-of-it. Amazing right?! At first I was nervous - because let's get real I am not a blog designer. But as I started working on it I think I have (with her consultation) come up with something perfect. I bet you can't wait to see it, right? Well you'll just have to wait - but, for the time being go on over and say hello - you wont regret it. She's got a house full of children and a barnyard full of animals.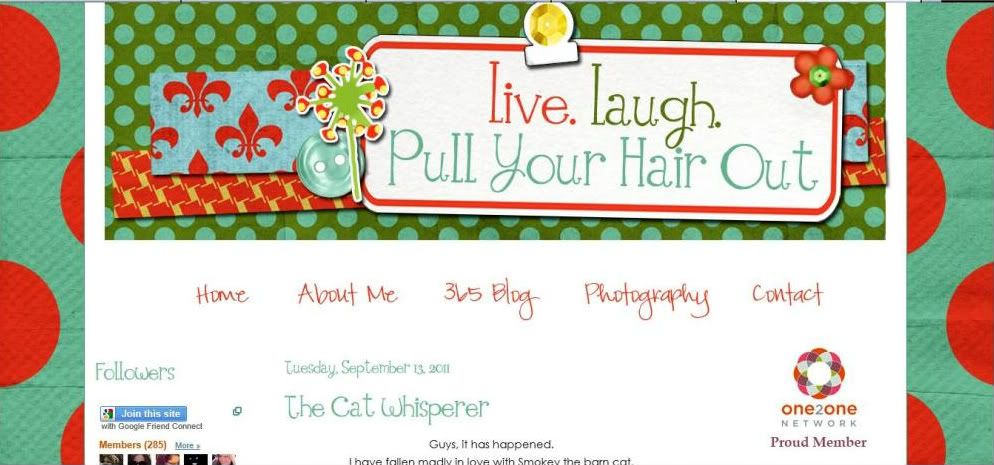 Winner, winner Chicken Dinner - I don't think so. Winner, winner Sheen dinner. Indeed. How many others are
totally loving
that Comedy Central decided to roast Charlie Sheen? I think this is the best.idea.ever. Seriously the stuff this man comes up with is pure gold. You'll know where I will be on Monday September 19!
Go check out what some other lovely bloggers are loving over at Jamie's Blog - they will love you for it.