A little while ago my lovely sister-in-law {my SIL for you hipsters} over at
Live.Laugh.PullYourHairOut
asked me if I would
redesign her blog
. I didn't take too long to answer - YES! I mean really I couldn't say no since she generously offered to take our wedding photos - in Cuba. And not when she managed to capture special moments like this.
Beautiful right?! How could I say no?
Since I am an amateur 'blog layout maker' the whole process took me a little more than a month. During that time I scanned other blog designs for ideas and inspiration and man there are a ton of beautifully designed blogs out there. I Googled and Googled and Googled 'How to's'. I seriously have a goldmine of 'How to's' safely tucked away in my bookmarks. Who needs to learn how to write HTML or CSS coding when it's already at your fingertips - generously offered up by kind blogggers/designers. Thanks for sharing your tricks and tips generous people on the Internet - you make my heart flutter!
I even went as far as creating a test.blog account to make sure everything was set up correctly. I viewed it on different browsers, on different screens, and on different computers. I wanted to make sure it was perfect (enough). And finally it came time to load it onto the live blog - I think I stared at the edit button for a good half hour building up the courage to start messing around with the guts (seriously the best part). I backed up the blog three times (just to be extra safe). Thankfully I never needed to use it. This is how it turned out.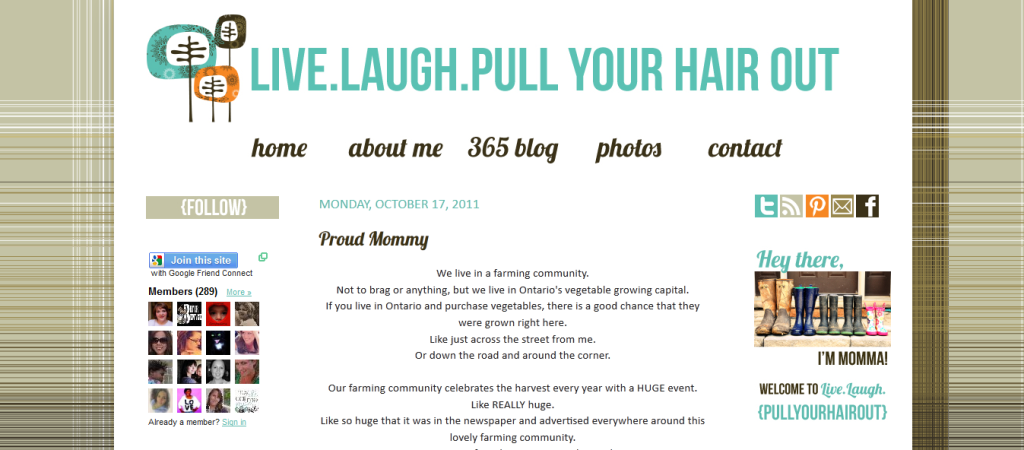 Go over and visit, say hello - and tell Momma how much you like it (or don't like it). Check out her family farm and her beautiful (and hilarious) children because there is always something (funny) going on at
Momma's
house.
It was nice to work on another persons corner of the web. I liked it so much that I think I might pick up a book (or two) and try to learn a few more blog layout tricks. Any book/site recommendations? Send them my way. I am totally itching to get my hands on another one - so badly I have even contemplated creating a space for Basil. Now that's just plain crazy silly!