I generally am not one to make a fuss about Hallowe'en. I like dressing up - but I hate coming up with ideas. It also doesn't help that Steve hates dressing up. So we usually opt out of any Hallowe'en parties to avoid having to think up costume ideas or dressing up all together. It's worked well so far. However, this year I wanted to somehow participate in the festivities so I decided to host our first pumpkin carving party. It had been almost 10 years since I last carved a pumpkin. Ridiculous right?!
With my limited pumpkin carving knowledge I took to Pinterest for hosting ideas. Thank goodness for Pinterest. How did I ever function without it? After hours of pin-surfing, I decided to keep our party simple. Originally I wanted to make a group trip to a pumpkin patch so we could all pick out our own perfect pumpkins - but we were unable to coordinate schedules. So I opted to visit our local flower market and turn our tiny apartment into a pumpkin patch.
Steve and I obviously got first dibs on the pumpkins and let our guests pick theirs on their way in. I did buy one extra pumpkin - just in case. And of course picked up some flowers - because a party isn't a party without gerbera daises. Aren't they the prettiest? Definitely a personal favourite.
Once the pumpkins were selected the pumpkin carving festivities began. To be honest this was probably the best party I had ever been to. Seriously - why had I put off carving pumpkins all those years? Seriously, look how much fun everyone was having.
Even Basil was having a blast.
When finished, we ventured outside for an obligatory photo op with our masterpieces. I never did this growing up - but it's all about starting new traditions right?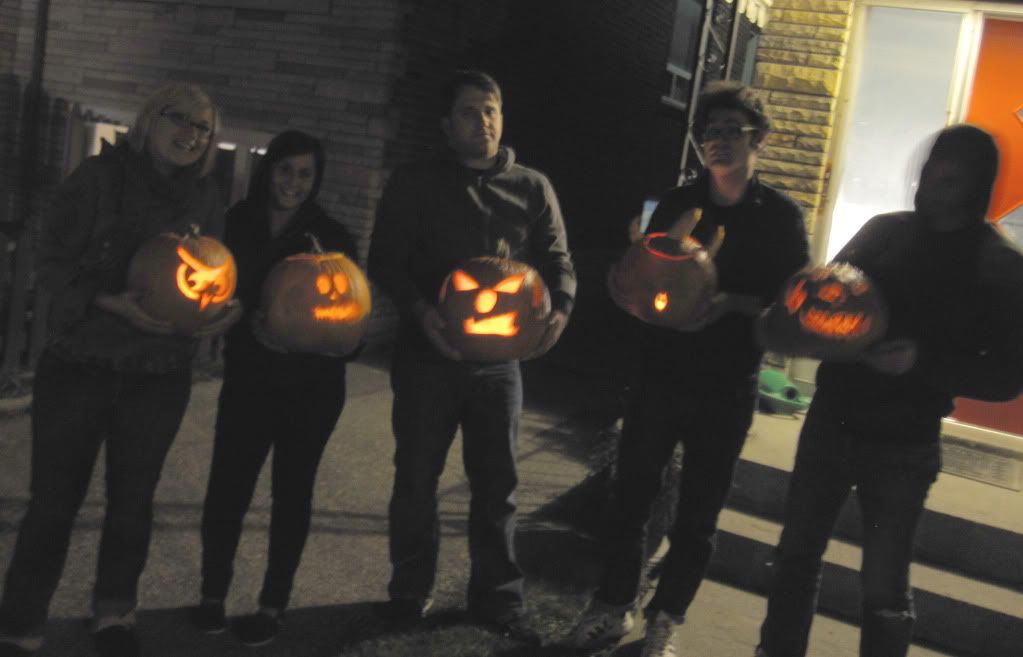 Steve was super impressed that I made everyone do this - but they will be thankful I did.
We all obviously worked so hard on these that we built up an appetite. Good thing I prepared my signature beef stew, I'll share the recipe with you sometime (maybe). It was the perfect compliment to an evening of pumpkin carving.
If you haven't noticed Steve hates getting his picture taken so we usually end up with this.