So in my entire 'pinning' career I have only attempted two Pinterest projects. However two out of two have been a success. You'd think that this would inspire me to attempt more. It doesn't. Let's get real - I always convince myself that there is never enough time. I am hoping to change this.
Last week I submitted my '
Campfire Orange Peel Cinnamon Buns
' pinterest inspired camp recipe to a new link up that Amber from
My Three Bittles
is co-hosting with Melissa from
A Day in The Life of A Mom and a Wife
and Sarah from
Fortune Favors The Brave
called
The Pinterest Project
(that's a whole whack of links). So I thought I would share with you (
again
) the first pinterest inspired recipe I made.
That's right - the infamous Buffalo Chicken Grilled Cheese from
Closet Cooking
. I know -
I have already reviewed this
- but dudes this grilled cheese sandwich is probably the best grilled cheese I have ever eaten. You need to make this. And then invite me for dinner. Or lunch. I'd even eat it for breakfast. I am not too picky.
I followed the
recipe
exactly - except I omitted the mayo (umm - because it's disgusting). The best part is instead of dipping this sucker into ketchup - you can dip it into buffalo sauce. Or even better blue cheese dip. Mayo Schmayo.
But there is something else you should know - Kevin, the author of
Closet Kitchen
, actually cooks from his closet kitchen in MY city. Since finding this out I have tried
tweeting him
to invite me over for dinner - but no dice. What gives Kev?
What have you pinned up lately?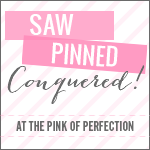 This is totally in your head now,
right?