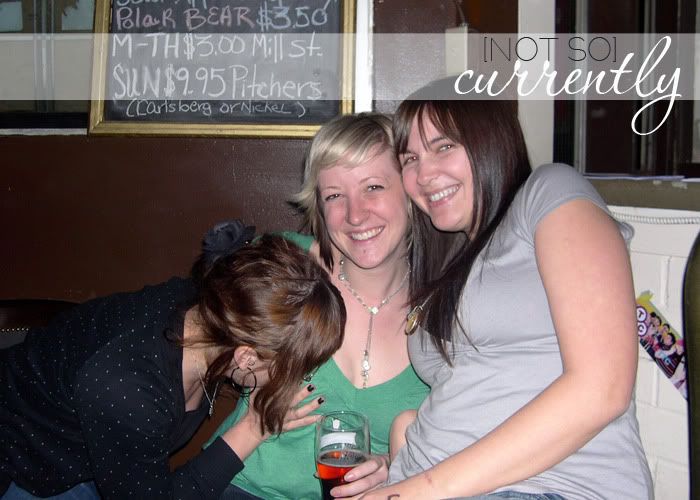 Sorry
Randalin
! And Sorry Krysten! Or should I be apologizing to myself for posting such ridiculous photos? Probably. But listen - this is what a brown-haired E-Ho is like. Or at least this is what she was like. Do you still want to be friends with me? I am a notorious picture ruiner. Think about it - and get back to me.
Also thanks for all your stories and comments about the emu or ostrich debate. I decided to do a little detective work and it is confirmed that
I have in fact fed an ostrich
. Well I am assuming this since we visited an ostrich farm - however they could have mistaken an emu and called it an ostrich. Since it was in Vietnam - it's quite possible. I think I am going to have to write up a post explaining the differences between the two. Just to avoid any further confusion. First I must consult our local zookeeper. I will follow up shortly.
Until then - want to know what's going on here lately? Or currently? Or whatever?
Cooking
I'm too lazy to cook. But this weekend we are going camping and I will be cooking up a storm. Hamburgers. Hot dogs. Marshmallows [not together]. Cinnamon buns - even. I can't wait to enjoy a few days outside - and cooking by campfire. All meals should be cooked over a fire. Everything just tastes better.
reading
The new Emily Giffin book, Where We Belong. I've been on the first chapter forever. I read at night and usually fall asleep after one page. At this rate I will be finished the book sometime next year. I hope to get in some solid reading time this weekend.
Wishing
That I could live off a starving artists income. Basically I wish I was 22 - went to school for graphic/web design and started my own home business. Also I wish hindsight wasn't 20-20. Seriously - hindsight makes you just feel bad. I mean - I am never going to be 22 again - so how is this knowledge useful? It isn't. UGH! I wish I could retire. Or win the lottery. Or own a pair of moccasins.
Considering
How I am going to spend my vacation in September. I have so many plans and ideas - but I have a feeling that this staycation is going to end up with me on the couch watching reruns of Six Feet Under or The O.C. [both shows I've been wanting to watch all over again].
Looking For
Time! Seriously - there isn't enough time to get all the things I want to do - done! Maybe I should consider spending my staycation time on some of these things? But that's no fun. So if you know how to stretch your time - or have some basic time management skills - hook a sista up! Boob grabs are free! So I'll pay you in high fives.
What are you up to currently?