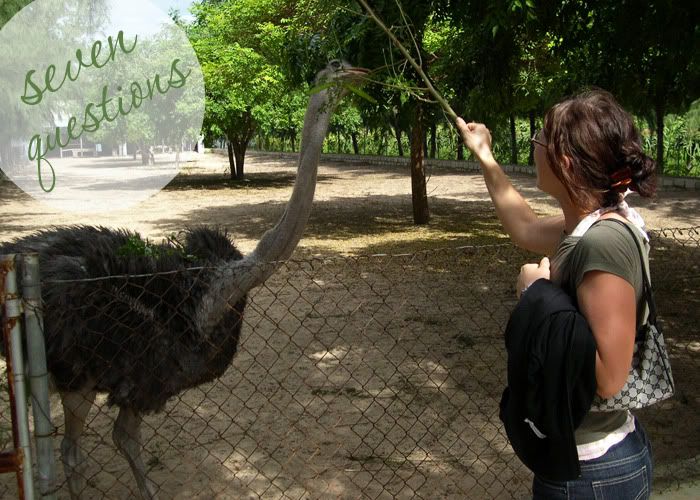 Have you ever fed an emu? Or and ostrich? I have. To be honest - I can't quite remember if this is an emu or an ostrich. What's the difference between them anyways? Well anyways - I fed this huge bird. It was hilarious. Also I have been considering changing my hair back to brown - fall is coming so it seems like perfect timing. Yes? or No?
So I am procrastinating! I have a ton of stuff to do - but it just seems more entertaining to answer
Gentri's seven questions
. They are always so good - how could I resist? I couldn't. So here I am - not doing what I should be doing - showing you pictures of me feeding an emu or an ostrich - or just a large bird. Did you know that people can ride them? I saw it. And am terribly afraid to ever want to try it. Anyways - answers to the questions. Right now!
1. Hamburger or Hotdog?
Aren't there all kinds of disgusting things in hotdogs? All kinds of disgusting things that make them taste delicious. Ummm...I don't know about you but there is nothing more delicious than a vendor dog. Especially after a night out. Or even on a weekend afternoon. Let's get real I'd eat vendor dogs for breakfast if I could. And dinner. I think it's the mustard. I really like mustard.
2. If you had to live on another planet which would you choose?
I am not well versed in all the planets - and the perks of any of them. Mars seems like it would be rocky - and I am not sure if there are trees. I would need trees. Also men are from Mars right? Someone told me that. And you go to Jupiter to get more stupider. I think Saturn is a pretty planet - so I will be shallow and pick the pretty one.
3. Share a photo of an outfit that represents your personal style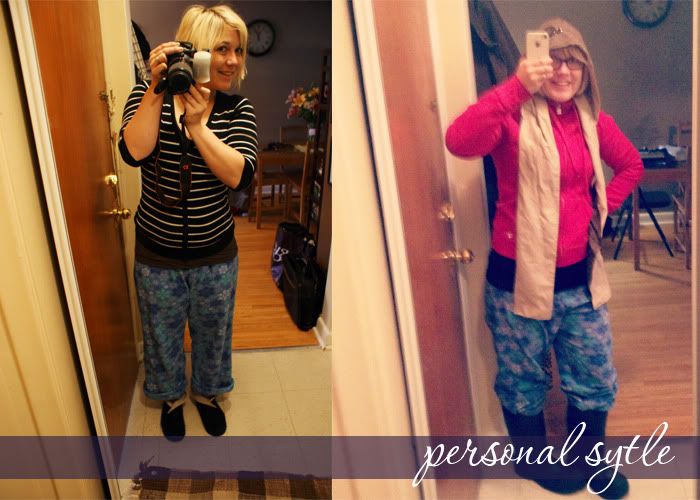 I know - you want to be me! Listen - I am anything but fashionable. I like clothes - but I don't think they define me. I like to be comfortable. Sometimes I like to wear a dress. But mostly I want to wear ridiculous PJ pants with mismatching tops. Oh and $70 slippers - that's haute couture.
4. Would you rather get ready for the day or get ready for bed?
I am not sure if the pictures above tipped you off - but I would be happy if I never had to get ready. I hate getting ready. So much wasted time spent in front of the mirror doing my hair, putting on makeup, picking out clothes. I'd rather wear my sweats and shower periodically. Am I disgusting? Or incredibly lazy? Probably both.
5. Choose between never having eyelashes or never having eyebrows?
I hate my eyebrows. They grow up into these devil horn things. They are ridiculous. They are so messy. My eyelashes - I love. They are naturally full and long. Sometimes a tiny bit of mascara is all I need. I would be sad to give them up - but sadly I think I would look ridiculous without eyebrows. So my eyelashes would have to go.
6. What do you want to be when you grow up?
I would love to know! I am all over the place. But honestly - I think I want to be a mom. I think I'll officially be a grown up when someone calls me mom. Even though the thought scares me to death.
7. Do you set your clocks right on time, or a few minutes ahead or behind?
Always ahead. ALWAYS. I am notoriously late for everything. I have to set three alarms in the morning. Steve has two. That's right - we have five alarms going off. Mornings are kind of crazy around here. Hence never EVER wanting to get ready.
Sans Eyebrows or Sans Eyelashes?