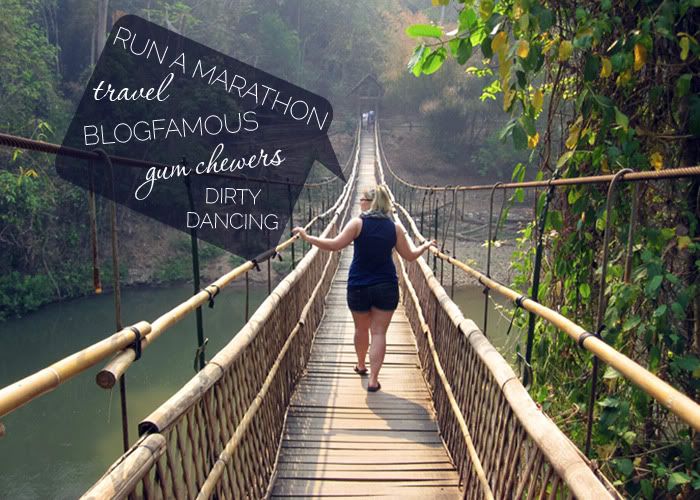 ¡Hola!

Mi nombre es

Emily

.

Tengo 32 años

.

Me gustan los gatos

.

Y

este es mi blog

.

No puedo hablar

ni escribir

en español

- pero

gracias a la

traducción

de Google -

que podría haber

engañado

?

Tal vez

?
I totally wish I could speak & write that well in Spanish. I studied for a bit - but then like most things gave up and moved on to some new interest. Like sewing. Or crocheting. Or blogging. Or...Anyways - I've been thinking about taking up Spanish again. But I am not here to tell you about that today.
Today I am linking up with my long lost BFF Kristen [Ummm..I think I just outed myself about my strong liking for Kristen but I feel like we are kindred spirits. Two peas in a pod. Basically we have a lot in common] for a link up she is co-hosting with some other ladies called Me, Myself & I. I

participated in their inaugural link up last month

- and thought it would be fun to participate again. And plus a few of you are new around here - HI!!! - so it's a good opportunity for you to get to know me. Because I know these questions were burning deep down inside of you. I just know it!
1. What would you attempt to do if you knew you could not fail?
I'd run a marathon. All 42 KM [26 miles]. The longest 'race I've run' is a 10K. Kind-of in my underwear.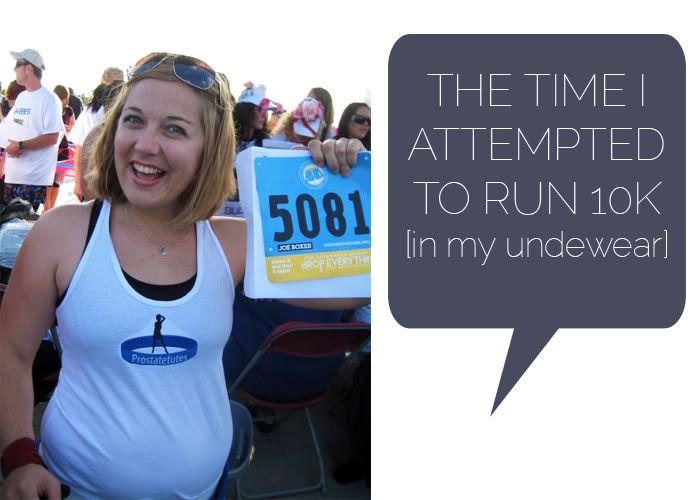 For the
Underwear Affair in 2009
.
And I came third last
.
I'll give you some back story - the friend I was running with pulled her groin. So I stuck it out with her. I am a good friend like that. But at least I finished. But I don't think I could finish another 30+ KM's. Because at the end of 10K - I was wiped. And starving. So yes if I knew I could finish a marathon - I would totally do it. Even in my underwear.
2. If you had only six months left to live, what would you do with the time?
I'd cash out my RSP's [Retirement Savings Plan] and buy an around the world ticket for Steve and I and get in some serious travelling. I'd visit all my favourite places. Some places
on my bucket list
. Then I'd try to find some sort of concoction so Steve would 'Romeo & Juliet' it when I die. You know because he'd be so upset and because he can't live without me. I mean - if he wants to.
Romeo & Juliet
3. If a front page news article was written on you, what would the headline be?
"Beer guzzling, maple syrup loving Canadian yearns to be blogfamous"
That's it - I've got nothing. Totally lame and shameful! But I do have a fun challenge. Try to come up with a headline - post it in the comments. And the winner's headline will be the name of my blog post on Wednesday. OK maybe Thursday because I have a special post scheduled for Wednesday that's going to confirm all your suspicions about me. But did I totally just deflect from my lame attempt at answering this question? I hope so - because it's way too hard. It's got to be easier to come up with a headline for someone else. Try it - will ya?
4. What is your biggest pet peeve?
Besides couples that proclaim their undying love for one another on Facebook? Yeah there is something more annoying than that. And that is loud gum chewers. Isn't it disgusting? Doesn't it make you just want to punch the rude person in the face? Me too! And you can be sure that I am always stuck beside this jerk on the bus. Or in an elevator. Or even worse - talking to them on the phone. Gum has got to be the worst invention ever. I've got a case of some serious gum rage. I rarely chew it - in fear of sounding like a cow. If you ever EVER hear me chew like this - call me out. PLEASE! I understand how irritating it is.
5. What is your favorite chick flick movie?
I feel like I don't even need to tell because it's obviously your favourite Chick Flick as well! I mean if it's not your favourite then - well we should talk about your movie choices. Dirty Dancing! Hands down. If you can't tell - I am passionate about it. So much
I even dedicated a post to it
.
I should dedicate more posts to this movie. Maybe even reenact some scenes with Steve for you.
like this one - obviously!
And ummm...this one....
C
an we just talk about how amazing Patrick Swayze looks? May he and his youthful man chest rest in peace.
Oh and this one - because it's only the best scene from the movie.
Hit me with your best e-ho headline!!