It's been awhile since I've shared a wedding shot. Maybe it hasn't - but I don't care. This one is funny. One of the things we did was hire the resort photographer. She thought she'd pose us all sexy like. This is the point where Steve kindly declines her pose suggestion. Seriously - they were ridiculous. This is why we hired
my sister-in-law.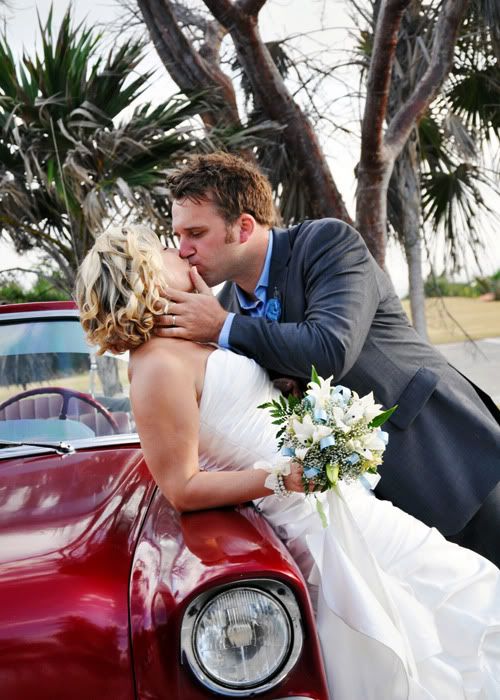 Oh - this isn't a post about my wedding that was nearly 17 months ago.
Gentri
has ended her seven questions hiatus. Booyah! Otherwise you'd be getting a post about how I went to the dentist and fist pumped when she informed me that I didn't in fact need a root canal - but ONLY 6 fillings. Ummm..you don't need to hear about that at all. I mean what do you need to know about a 32 year old that has six cavities? Do you need to know that she is terrified of the dentist? No? OK good. Let's get to it then.
1. It's August first, are you savoring the Summer or ready to jump into Fall?
This summer has been the worst on record. I don't think I have ever lived through so many heat waves. I am totally ready for summer to end and sweater weather to make an appearance. I love the fall colours. Fall fashion. Scarves. Sweaters. Cardigans. Tights. Boots. Hot coffee and rosy cheeks. Fall camping.
2. You need a quick and healthy meal, what do you make?
I don't think my body knows what a healthy meal is. Seriously I am a terrible eater. You'd be surprised that I am not on one of those shows where I am too heavy that I need to be airlifted out of my house. I am not there yet. But I do dream of eating healthy. And when I do try - I eat quinoa salad. How cute is quinoa? Your food needs to be cute right?
3. You're at the mall, how do you shop?
Lady is cheap. I search for a bargain. I usually need to circle the mall a few times before I make any type of purchase. Once I decide on something - I try it on. Never before - because that's only going to encourage me to buy it more. My bank account thanks me for this behaviour.
4. Would you rather buy a new house or renovate an old one?
I day dream of one day owning a farm house that over 100 years old and renovating it. I want a lot of windows and a big gigantic porch that wraps around the house. I will put a porch swing out there and drink lemonade and knit. Someone needs to teach me how to knit first. I want something like this. If this is your house - please sell it to me for a good price.
5. Long hair or short hair?
If my hair would grow and promise to look like LC's hair all.the.time I would totally grow my hair out. I love long beachy blond locks. Let's dream a little shall we?
However I am not blessed with gorgeous LC locks. So I stick to short bobs. It works for me.
6. Who is your oldest (not by age) friend?
Ummm....didn't I tell you already that I am the worlds worst friend. I am so terrible at keeping in touch. I don't know if it's an age thing or the hermit thing. But there are a lot peeps that I have known and still keep in touch with via FB. Don't you think that Facebook has tampered with the normal evolution of relationships. Should we really be able to creep on ex-boyfriends. See who they married. And comment on how much weight they have gained? Or how the pretty girl in high school is not butt ugly? It's weird to me. Like when you run into someone you haven't seen for awhile and they ask you how your last trip was.
"Ummm..I'm sorry how did you know that?"
...
"Dude you posted your entire album on FB!"
This is all too unnatural for me. I should have been born centuries before.
7. What is your favorite blog- currently?
Tough question! How do you answer this fairly without playing favourites? So I will tell you which blogs I am sponsoring this month.
And I was lucky enough to have won some free ad space on these two blogs below - so I am excited to get to know each of them better.
Mom To Memphis and Ruby
Lovely Little Things
Now Your Turn - GO!