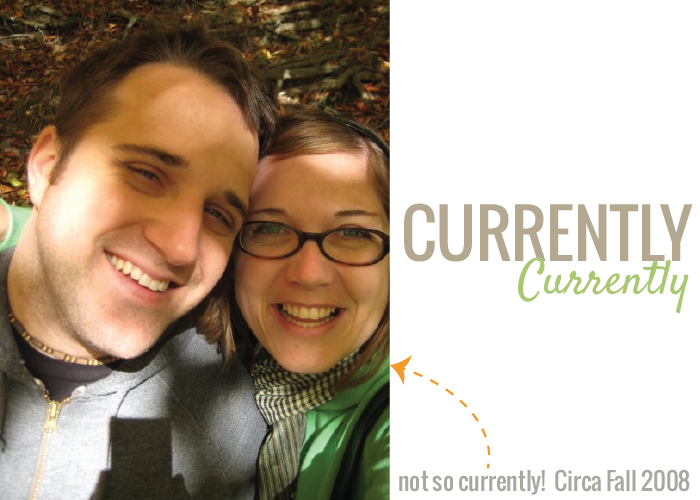 This is the only fall shot I own of us. I need to fix that. Ugh - today has not gone as planned. Just a reminder to your working peeps - don't plan for things to happen while your away on vacation - because you'll probably need to attend to them when errors happen. This happened to me today. So instead of cleaning my apartment, preparing for Steve's return from India, I spent the morning on the phone and replying to e-mails. It's now 2:30 p.m. and I still haven't eaten - man I am hungry! These dry fruit loops aren't cutting it. So instead of the post I originally planned for today - I thought I'd let you know what's been going on around here while my husband has been away enjoying the world and I have been sitting in my pyjamas with dirty hairy, feeling like a hobo.
Achieving
Some goals off my to do list. Though the list is quite lengthy - I am getting a few things done. The time off has helped. I still need to get my hair done. The roots I am rockin' are past the point where it's acceptable to pass as looking alright - they look straight up gross now.
Building
Up my design portfolio. I just wish I had more time to focus on it. And that it would pay all the bills and buy me clothes and new shoes. I wish I was ballsy enough to just go for it. But until that happens - I will just continue to build up my experience one brave client at a time. This is also why my blogfame is so important. Sometimes it's true - it's not what you know it's who you know. Speaking of which - I am looking for a new blog to sponsor in October. I've been so successful with sponsoring my lady Kristen from
KV's Confessions
that I am hesitant to stray away - can you recommend someone nearly as awesome as her?
Collecting
Boxes. I've made two trips to IKEA in the past two weeks and have both times purchased boxes. It was on my to-do-list. However I have yet to fill those boxes with anything. Thus it now looks like I am just an IKEA box collector. Now back to achieving some of those organization goals.
Dealing With
Today - work database problems! Soon - a messy kitchen and a few loads of laundry. Oh and sleeping on the couch. I can't sleep in the bed when Steve is away. Not because I am lonely [which I am] but because it's too far from the front door. I don't think I would be able to hear a robber if they tried to break in. I like being on the couch since it's so close to the door. And - also because I am afraid of sleeping a lone. I should also mention that I am dealing with bad sleeping patterns do to my husband being away. Dude should come home! Thankfully only one more night.
Enjoying
Some much needed E-Ho personal time. Even though I miss my husband - it's been awesome just having some time to myself. And having a few days to do absolutely nothing. It was desperately needed. But still - dude needs to come home.
If you are enjoying this currently update - head over to my friend Randalin's and check out some more - or even better link up your own. Because I want to know what you've been dealing with!