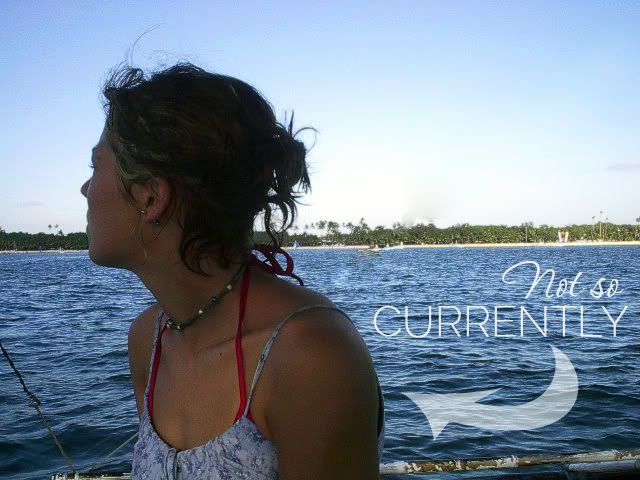 I shouldn't be posting since I just chugged a
neo citran
and am having a hard time stringing sentences together - but here I am. Every time I am sick - I think about the time I vacationed in the Philippines in 2002 - basically a billion years ago. Anyways - I got the sickest I have ever been in my life there. I remember sitting in our room freezing and hallucinating - I think I had a temp of 39.5 degrees or something. The temperatures there were in the 100's and I was all bundled up in a sweater, jeans, and socks. It got to the point that I had to go to some sketchy clinic on the Island we were staying on and get some sort of shot to break the fever - and then an ice bath. At the time they thought I had
dengue fever.
I had never heard of it before. But they thought they'd have to keep me for a few days - my flight was scheduled to leave the following day. I slightly freaked out - but was relieved they cured my fever - so I was almost OK with the decision. Turns out I was just dehydrated. Too much fun in the sun. What a rookie mistake. I've learned my lesson.
I try to use that moment as my sickness threshold - like I can't complain until I am that sick. It never works because seriously the moment I get a sniffle I turn into a huge baby. It's moments when I am really sick - and don't complain - that's when I know it's serious. Anyways - this cold (or flu) that I have know - it's nothing - I am just being a big whiny baby. It's allowed right? Right! Thanks!
Besides being plagued with illness - this is what's been going on here.
wishing
First I want to say I wish I wasn't sick. Obviously. But seriously I am wishing that
Breaking Bad
wasn't taking a mid-season hiatus. Seriously? It's the last season - let's just end this already. Tell me some of you watch this show? So we can talk about it.
Reading
Still that Emily Giffin book
- Where We Belong. I had wanted to get into it our last camping trip - but I got caught up with all the
canoeing
and campfire sitting that it just didn't happen. I have some vacation days coming up next week - I plan to get it read then. Plan is the operative word.
Eating
Chicken Noodle Soup. And Popsicles. And Vitamin C - the chewable ones - because we are like children in this family.
Anticipating
My nearly two-week staycation. Steve is headed to India for work - so I am taking some days off over the next two weeks to chill at home. Relax. Do girly things. Clean the office/sewing room. And hang with the cat. I am pleased I got sick before this happened. I am hoping I don't pass it on to Steve. I'd hate him to be sick on his trip.
Missing
My energy. I was convinced before this cold/flu broke out that I was just missing some vitamins in my diet so I went out and stocked up. Lately I have been feeling so drained. I am really looking forward to having some energy to get my lazy ass out of bed. It's been a struggle.
Link up here and tell me what you've been up to