So sometimes I bake! Remember when I told you I had a ton of hobbies? Well baking and decorating cupcakes was once one of them. Except - I am a terrible baker - and a much better decorator. I have tried numerous times to make cupcakes from scratch and they always end up either too hard or too dry. So I always settle for the boxed kind - because why mess with perfection? Maybe one day I will try again - maybe not. Anyways - this past weekend we were planning to have a post-thanksgiving dinner with a few friends - and when I stumbled on
this recipe
on Pinterest for
Apple Caramel Cupcakes
I knew I had to dust off my cupcake trays and tie on my apron. So I did! And they went over well. Except - I forgot that I don't like cheese based icing - my hips and thighs were thankful.
Here is my rendition...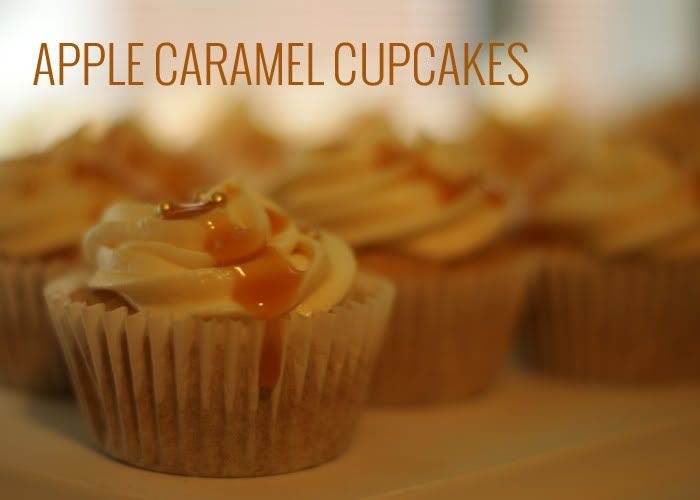 They look delicious right? You need to make these - one because they are fool proof - and two because they ARE delicious. Next time - I would stick with a caramel butter cream and exclude the cream cheese so I could actually enjoy them.
Here's what you'll need...
I knew right away that this recipe was going to be easy when there were less than 10 ingredients listed - and most of them I already had in the house.
For the Apple Cake Batter
1 Box of vanilla cake mix [I used Duncan Hines French Vanilla as suggested in the original recipe]
1 Can of apple pie filling
1/2 teaspoon of cinnamon
1/2 teaspoon of nutmeg
3 large eggs
The directions - sort of
1. Preheat oven to 350 degrees.
2. Open the can of pie filling and cut into bite sizes pieces. The original recipe said to do this in the can by inserting the knife into the centre and moving toward the end of the can - I did this but next time I would use my hand blender to make the pieces of apple even smaller.
3. Combine the ingredients above in a large bowl and mix it up.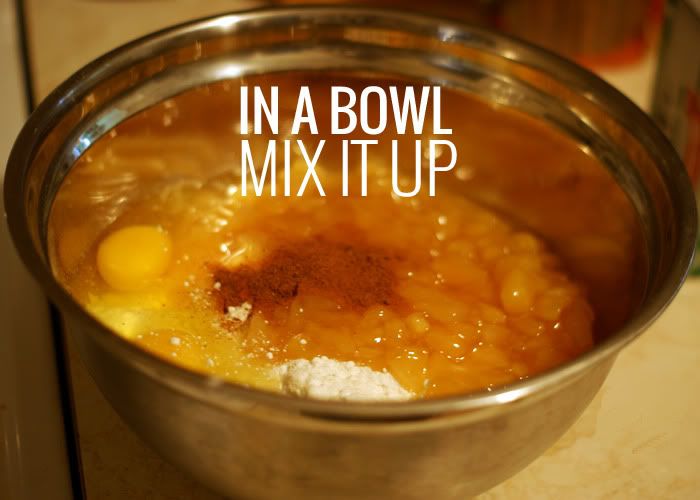 4. Spoon into cupcake tray liners - I used an ice cream scoop to try and keep them even.
5. Bake for 16 minutes [the original said between 14 - 18 minutes so I stuck in the middle it they were perfect - kind of]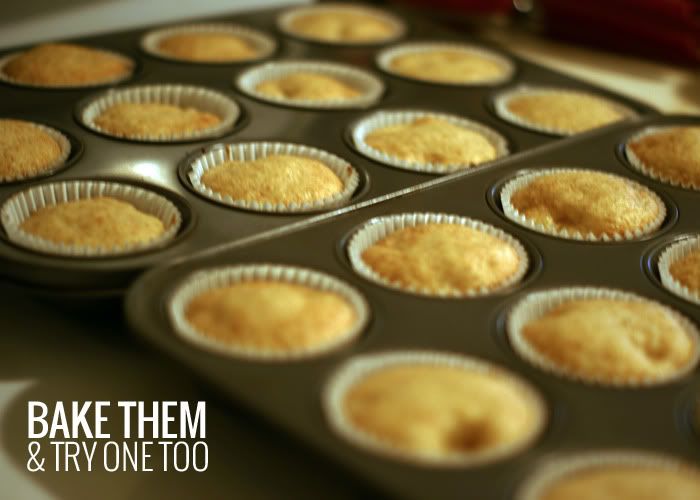 6. Let them cool completely prior to icing. But I would totally eat one [or a few] while they are warm because they seriously taste amazing.
For The buttercream Icing
1/2 Cup of Butter
8 oz. Cream Cheese
1/4 Cup of Caramel Sauce [I used smuckers - because it's awesome]
3 cups of icing sugar [because the sweeter the better]
The Directions
1. Combine butter, cream cheese, and caramel sauce and mix until light and fluffy. I let the butter and cream cheese soften out of the fridge prior to mixing.
2. Add the icing sugar mixing in one cup at a time until desired consistency.
Since I wanted to ice the cupcakes right away [and because I wanted to mask the taste of the cream cheese] I added a little more icing sugar to stiffen it a bit since I was piping it on. [Yeah man - did you catch my baking jargon - I've still got it].
3. Ice. Decorate with caramel. And viola!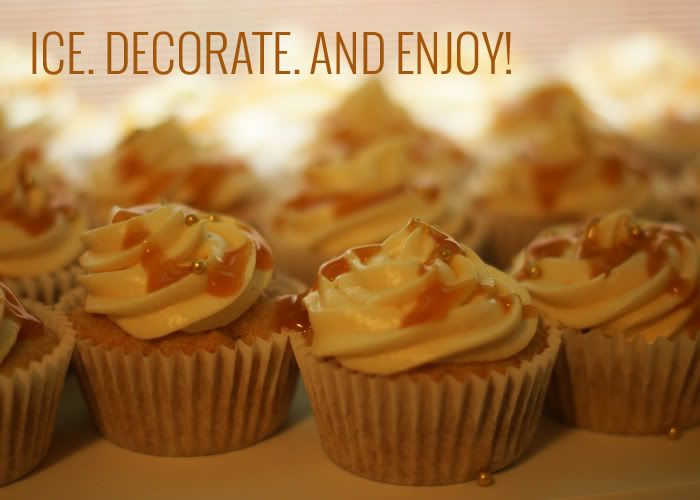 For a much better explanation of how to bake these - check of the original recipe on
Your Cup Of Cake
.
Now that I've got my baking bug back - what are some of your go to fall baking recipes?
p.s. I am linking up here