What's up my dudes? Don't you want to just slip this phrase into conversation like Pauly D? Like when something awesome happens you want to say
"Yeah my Dude!"
Or
"Thanks my dude!"
Try it out - it grows on you. Actually if I could just talk like Pauly D - I would be happy. Yeaaaahhhhhh Buddddddyyyy - The link up is herrrrrrreeee. The
Me. Myself. & I link up
that is. My dude
Kristen
co-hosts so I like to support her and I like to talk about myself - so it all works out.
You can check out
part uno
,
part dos
, and
part tres
first, or after, or not at all, it's up to you.
1. What is your favorite season? Explain
Fall! Because the weather is perfect. There is some sunshine - but it's cool enough to bust out a jacket. Or a cardigan. And a scarf. And some boots. And colours are pretty. And you can go for a walk with a hot coffee and get rosy cheeks. I am sad that fall in Canada is almost over. The leaves are less vibrant and one good storm is going to knock them all down. Then winter will be here and then I will turn into a bear and pack on some hibernation weight. And I will probably complain about the weather for the next 8 months. Just a head up my dudes! [Sorry I had to]
2. Talk about a moment that changed your life?
There are two moments - but the one that really changed my life - well I am not sure if I am ready to release that onto the interweb yet. Or ever. Probably never. Bloggers can't technically be private people since we tend to share all the intimate moments with a bunch of strangers. But some things need to be private right? Right! OK - so that's settled. The second moment that changed my life was when I stepped on the plane in December 2002 and headed towards Seoul, South Korea. I chased a boy. We fell in love. We travelled a bit. We moved home. We got jobs. We got married. To be continued.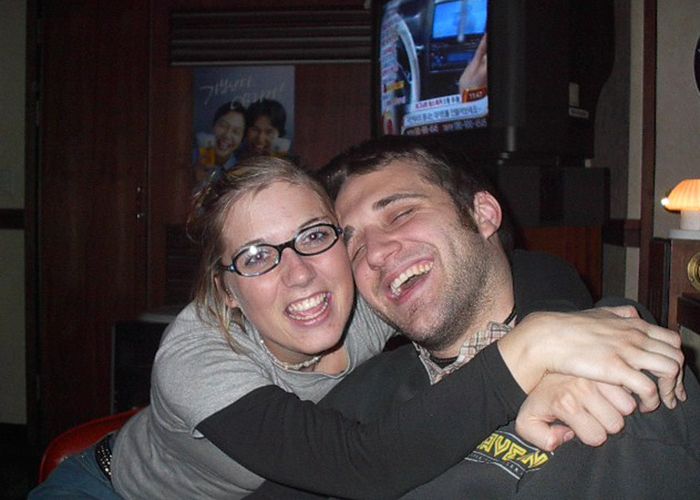 3. If you could be any Crayola crayon color, what would you be & why?
I debated back and forth between red, blue, and purple - but the winner was red! Why? Because it's classic. It's bold. It's vibrant. It represents love. And anger. And fall.
4. Describe yourself as a superhero: Superpower? Name? Sidekick?
Ha-ha - OK I thought I'd give a realistic answer. I'd be a beer wizard. I am not even sure what that looks like. So I Googled it - and died laughing because it just brought up a bunch of images of people playing
wizard sticks
. A game I totally wanted to play this past camp season and forgot all about. Bummer man! Anyways - I totally would win - so I guess my beer drinking ability could be considered a superpower. My sidekick - anyone brave enough to last the night with me.
So I guess this is what a beer wizard looks like when her glass is empty. Sadly her superpowers only extend to a strong ability to drink copious amounts of beer and not to having a bar tap for a left hand.
5. If you had all the money in the world and could only shop at 3 stores, where would you shop?
ETSY!
That counts as an online line store right? This way I have access to an abundance of shops - to shop my little heart out.
Antrhopologie!
Because I am way to poor to shop there now. I would only wear Anthro dresses. Oh and aprons.
Ikea!
Because it's awesome and practical. And the meatballs are delicious. I'd buy a lot of meatballs.
Now it's your turn - GO - My Dudes!