Only 7 days late and we are live - and this time we want to see your junk! Am I the only immature one that laughs anytime I think or say the word junk? Probably. Thanks to my lady
KV
for the awesome topic.
This is probably my worst and longest vlog yet. I got home - cooked dinner - hung out with the cat and Steve - and the remembered I needed to record this. Plus it was so rainy and dreary today - that I just feel like I am dragging. Oh yep - there I go talking about the weather - you're going to start thinking I am actually an 80 year old woman behind this blog. I assure I am not.
Before we move on - because you're totally intrigued to show us your junk - record your video - post your post and use this button.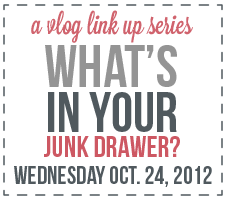 Another Long Hope Squared Vlog
Did you get through all of that? And to be honest that's not even close to the amount of junk that I've got hidden. It's ridiculous.
Oh and the disc I found with our wedding pics - this is why I was happy about locating it.
Should I frame this? Do you want a copy? It's probably the best wedding picture of all time. I really think the moody outer glow gives it the perfect touch. You can see some more
in this post
.
Oh and we are changing things up - because the holidays are coming and our lives are all busy. So this month we are giving you next months prompt - now! This way you have an entire month to prepare. So next month on
Wednesday November 21
- we want to know
What's In Your Thankful Heart?
If you're interested in guest hosting let me know! Just leave a comment or flip me an e-mail. Oh and here is the button for next month! I know - we are totally on top of things.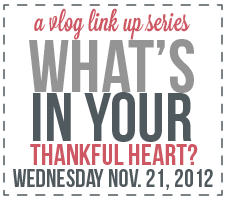 p.s. Don't forget to remind me closer to the date to record my vlog.
p.p.s. Don't get confused - the button at the top is for today's link up and this button here (just up there) is for the link up for next month. However I think the dates and topics should help you out. I don't mean to get all micromanagey on you.
SO YO, Link up here!