Ever since I peaked an interest in graphic design - one thing I love to do is discover new bloggers who are also venturing on this journey. It's amazing just how talented people are. I love looking at other designers work and one of the first things I wonder is how they came up with that concept. I often wonder if I was approached with the same client would I have come out with something similar? It's most likely that I wouldn't - and that's why it's so amazing that there are an abundance of people out there that specialize in prettying up the blogosphere. This means that there is bound to be someone who will be able to take you idea and turn it into reality.
Today I want to introduce (or maybe even reintroduce) you to a lady who has been in the blog design biz before blogging was even cool. She's got total street cred. Plus she's got Canadian roots - so I can vouch for her awesomeness and niceness. She didn't even make fun of me for spelling colour or favourite with a U - because she gets it!
Say hello to........
Shaina is embarking on a blog design course journey this month - even though she's been repping it since 2009. So I asked Shaina these questions that I always think about when discovering a new blog designer - and hopefully we'll all learn a thing or two.
My name is Shaina and I write at
shadylaneblog.com
. I'm a twenty-something girl who truly believes that there is something good in the every day. I take pictures, design blogs, journal, collect quotes and elephants and change my hair all the time. On my blog you'll find inspiration and real life ways to celebrate the everyday.
I've been blogging since 2005 and its really a part of who I am. My love and interest in blog designing came from wanting to create a space of my own online that matched my personality and felt like "home." That's what I strive to do for my design clients too. I recently did a fun post all about my own blog's designs through the years and a bit about how I learned to design through the years. You can read that post
here
.
I have been married to my best friend, Chris for 5 years now and we own our first little home in a tiny town in central Washington State. And this week I started my brand new part-time job at a local credit union. Lots of new beginnings and things to celebrate!


I am a big fan of blogs with a purpose and a design to match. I like things clean and organized, but I'm a big fan of seeing a little 'surprise'...like something done a little bit different then the norm. I come from a scrapbooking background and so "pictures and stories" are what I'm drawn to. I like the design to complement the content, not overpower it and I enjoy things linear and with a good use of white space. And fonts. Fonts are my jam, man!

When I work with clients I tell them that the first step in creating an online home that you love is digging a little bit into who you are, and what you want your blog to be. What are your goals for your blog? What makes you unique, and why is that meaningful? How does that apply to interest readers? And then we use these concepts to form a
blog mission statement
. That mission statements enables me as the designer to have a clear view of who my clients are and what they want from their blog and design. And it helps them moving forward. They can have it written down and refer to it all the time to make sure what they're posting matches their intent. I want their design and their blog moving forward to always be true to who they are and what they love.

I think fonts are an influential part of any design, but with so so (so) many options available, its easy to get overwhelmed and want to use them ALL! But the truth is, your content will shine if you pick 2 (3 at the most) fonts, stay consistent throughout your design and what you use in your blog posts. Its best if your fonts don't compete for attention, but rather elevate your words. Rule of thumb to keep in mind: keep it simple, and be consistent. But that doesn't have to mean boring! I love collecting fonts, and a key component to my own blog design was turning my handwriting into a font. I love the personal touch that added, and now offer it as an option for my design clients too
.

Shadylane Design is unique because I am the designer. That might sound a bit cheesy, but it's the truth. No one else sees the world the way I do, no one is inspired by quite the same things as me and no one sees people the way I do. I think I have a gift in really figuring out who people are and creating a design that matches their personality and makes them feel at home in their online space. I create all my designs from scratch based on a detailed questionnaire that I send to each of my clients. I think sometimes I even help people discover things for their blog, or even for themselves personally, that they might not have without picking me as their designer. I love people, and I love being able to help people with design.
Seriously...........your hearts must be fluttering right about now!
Isn't Shaina awesome?
She seriously comes across as the nicest person ever. EVER! And I am not only saying this because she is Canadian. And has awesome hair. I totally mean it. And I love all the design advice she offered. These are definitely some tips I will be using when working with future clients. I love the idea about creating a blog mission statement. This lady isn't shady - she's brilliant.
But that's not it. Shaina is SO nice that today she is offering all Hope Squared readers with a special gift. Check, check, check it out - and if you've been contemplating a blog makeover -
Shaina is ALSO offering all Hope Squared readers a 15% off discount
.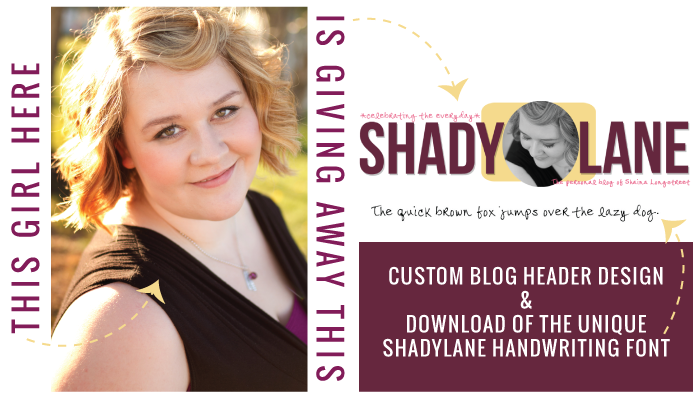 Oh and because I also like you all for reading [or at least pretending to read] Hope Squared - I've got something for you too.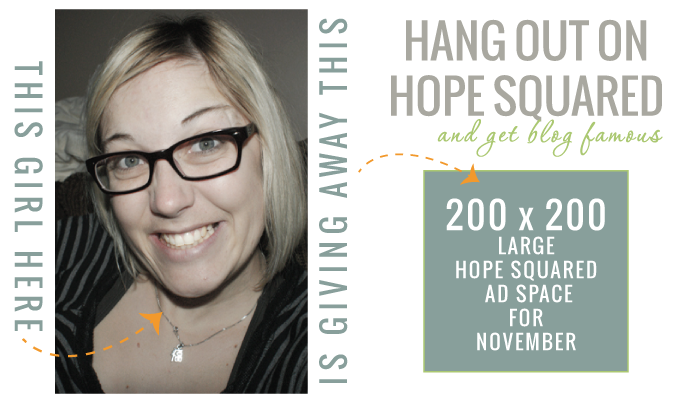 Enter here - one winner takes all! Good luck homeslices!
Winner will be announced 10-18-2012!
a Rafflecopter giveaway