It almost feels foreign opening this page and typing in this text box. It's almost as though I need to provide you with some explanation for my disappearance - but then I don't really have one. Nor excuses. Usually I am full of them. But I can tell you the truth - sometimes you just need to step back and take a creative break. And during that time catch up on some much needed sleep. So instead of forcing myself to sit in front of the computer for a a few hours each night - I sat on the couch and watched TV. Really, really bad TV and let myself sleep. I felt sad not updating my online journal on the daily - but after a few days I almost forgot all about it. I am not sure what that means? But it's not surprising. I am a woman who rarely sticks with anything.
At first I wondered why it was I insisted on keeping up with a blog in the first place. Surely it isn't because of the blogfame - I am painfully too far away from that milestone and am sure I will never get there. Especially since a month of no blogging as indicated a decline in readership. I probably could make the D list at best. Thanks to those of you that have been refreshing and waiting patiently for an update. But after a lot of thought it's simple - I like to capture the memories. I am not a scrapbooker or a photo album keeper - I am not even good at printing photos. Seriously, I've got a frame hanging in my apartment with the stock photos. I have started to believe that the people in the frames are my friends and family. Need proof - here you go!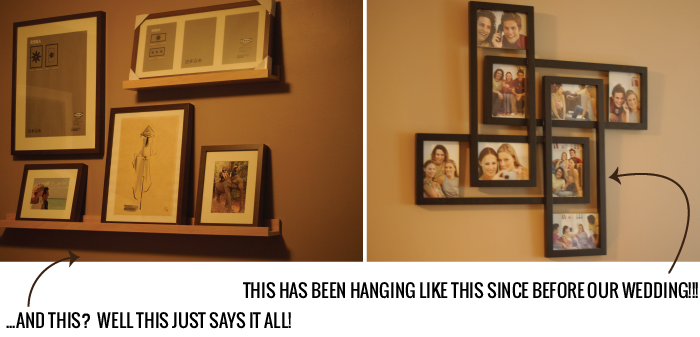 Ridiculous right? Back to my point - if you haven't noticed I am barely a writer - but it's the only way I know how to document and remember things. So maybe that's why I blog? And that's why I miss it. So I guess I am back. But I am going to make some changes. Because I need to be realistic about my expectations - and now what kind of commitments I can handle. Like signing up for swaps! I signed up for three ornament swaps all that occurred during my hiatus. I failed on all of them. Probably making me look like some sort of jerk. Maybe I am? Sorry if I let you down. Note to self - stop signing up for things you can't commit to. Anyways you don't really care about my blogging plans do you? Or my apologies.
I hope to get back into the swing of things! Stick around - if you want to.