So basically I am a non-blogger! I really want to be a blogger - but I just never seem to get around to it. It's funny how into something you can be - and then just like that you forget about it. Well not exactly - but kind of. There are plenty of times in the past while that I have thought "Oh yeah I have a blog - I should update that sometime" but then I quickly think about napping on the sofa, watching netflix, snugglin' with Basil that the motivation just sort of slips on by. I mean you're totally not interested in my napping, snugglin' and TV watching schedule, are you? If you are - hit me up and I can let you know how it goes. Otherwise - I'll catch you up with what's been going on around my parts lately with a currently post.
Currently I've been....
Obsessing
about the human that's growing inside me. Wait! Didn't I tell you all that Steve and I are expecting? Oh minor detail. So sometime in September 2012 a baby started to grow in my uterus. It's been getting bigger in there for roughly 14 weeks and 5 days (not that I am counting). And I have probably slept away nearly 7 of those weeks. If you're a real life friend and reading this and I haven't told you - sorry man! It's hard to track you all down in the same place and a lady can only keep a secret for so long. Oh and blog friends - sorry for the lame reveal - there are only so many times that you can see a picture of feet and little shoes, a picture of me and a jar of preggo, and a picture of me in front of my oven with a bun in it. I have been obsessing about how to reveal this news to the blogoshere and came up with nothing. So there - it's out. I can now continue to obsess about the fact that my wardrobe is quickly dwindling and that I can't ever seem to get enough sleep - or oranges for that matter.
Looking
at this first glimpse of my new uterine dwelling child.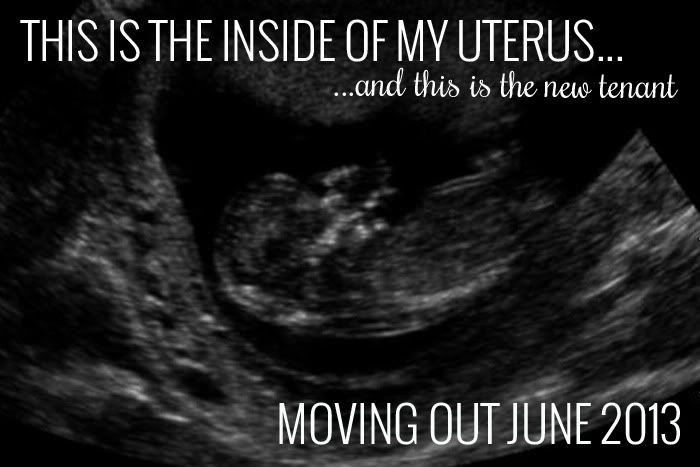 I look at it every.single.day. Sometimes a few times a day. I look at it's legs. And short little arms. I wonder what it will be. Human hopefully - but more importantly a boy or a girl? I wonder if it's healthy? I wonder how an ultrasound can take a picture of my uterus? I wonder if you're really interested in seeing what my uterus looks like?
Improving
my how I eat. And how I sleep. And how I handle stress. And how much I am willing to commit to. Also my Google skills. Seriously I have Googled the oddest things in the last 14 weeks.
Learning
that women that claim they loved being pregnant are all liars. Or at least just glamorizing the job. Seriously growing a human is effin' hard - don't let anyone tell you otherwise. It's not glamorous. Sometimes it's not even fun. Feeling barfy. Occasional barfing. Constant hunger - but no desire to eat anything. Anything but oranges. And mangoes. But I am positive that in the end - it will all be worth it.
Remembering
what it's like to drink beer. Yes I am of course taking a beer hiatus - but man I miss it. Though actually drinking a beer would probably make we ill since I can't tolerate the smell of it - but I do miss coming home after a tough day and cracking open a tall boy. Totally mother material right here. Please wish me luck! I am going to need it.
Oh and thanks
Randalin
for hosting this link up so I had a reason to blog.