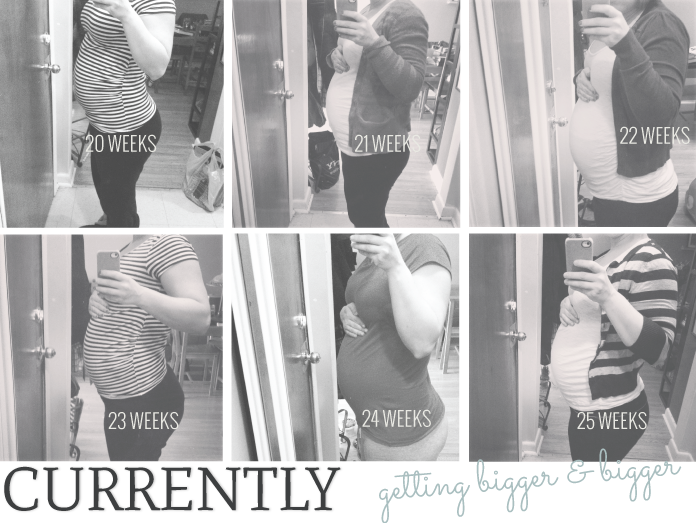 Oh hey! Remember me? I hope so. I've been MIA for about 6 weeks. As you can see my belly is growing - and with that comes a laundry list of tasks to complete. At the rate that my pregnancy is flying by - I kind of wish that you were pregnant for 50 weeks. I really could use the extra 10 weeks. However the thought of possibly birthing a 20 pound infant doesn't sound like something I want to experience. But really - between getting the house ready for a baby - which has proven to be the largest task EVER and getting things settled at work - which also doesn't seem to be working in my favour since I seem to be taking on new projects and not really getting anywhere - my blog life has become non-existent. I don't know how people do this. Blog. Work. Clean the house. Be a mom. Have a social life. I have no idea what I am in for - do I?
I've had a few panic moments in the last few weeks. A few weepy moments. A few moments of excitement. And a few moments of mourning. Mourning the fact that my life is (and already has) about to drastically change. Mourning all the moments I have to myself. All the moments I only need to think about myself. I am mourning my selfishness. But I am ready - kind of - for the change. Thank goodness for Steve!!
But other than that - this is what else has been going on here
currently watching
A few weeks ago Steve and I blasted through five seasons of Sons of Anarchy. Have you watched it? It's pretty much - amazing. Bikers. Old ladies. Guns. and hot men.
Am I right? I am right. But now - I am currently waiting until sometime in June for season 6 to start. Along with Breaking Bad.
So what am I currently watching? Besides my the scale grow and wonder how I will ever work of these extra pounds? I have been watching this - over and over again.
you too?
Currently Craving
Summer! And summer clothes. Not that any of mine fit me. But seriously - I am sick of pants. And cardigans. And hats. Scarves. And winter jackets. I am ready to show off this baby belly in some cuter clothes. Plus I am pretty close to pushing it with my wardrobe. I refuse to buy anymore maternity clothes. However I think this is a battle I am going to lose. This bump is growing exponentially. It's ridiculous.
I am also still craving oranges - even though they give me the most insane heartburn. I eat one or two before bed - and then another two as soon as I wake up. I stash them in my purse. I can't get enough. Even writing about them is making me want one. Like real bad. For realz.
currently looking
For a crib. We just can't decide on one. We are going to go out browsing again this weekend. Hopefully we'll find something. But really I am so picky and cribs are just too grand looking. I want something clean and simple. Why is that so difficult to find? And every crib I like is way out of our price range. And seriously - will I even use a crib? I mean - let's get real I am going to be that mom that will want to sleep close to the baby. I'm probably better off investing in a king sized bed.
currently loving
All the movement I am feeling lately. I was starting to get worried because I wasn't feeling B-Ho as much as I wanted - turns out I have an anterior placenta. That seems to be large and in charge. So any movement I was feeling was down low. As little B-Ho gets bigger and stronger - I've started to feel the movements a bit more all over. However B-Ho seems to enjoy either jabbing my bladder or my cervix. I suppose these are the stabbing vagina pains that people warned me about. Wait - you didn't want to read about my vagina? I'm sorry.
Currently Planning
TO HAVE A MOTHER EFFIN' BABY!!! Sometimes I forget that I am pregnant and then I remember and a panic sets in. Because I realize that even though I am not terrible at planning - I hate it. I am a notorious procrastinator. I like to go with the flow. Unfortunately when there is a human growing in your belly - there is no time to procrastinate because like it or not this baby is going to come. Whenever it chooses. OMG - Baby you better choose to come when I am ready. PLEASE!!!
Link up
here
and tell me what's up with you.