After eight weeks of becoming a mother I am finally starting to feel, somewhat, human again. The transition into parenthood wasn't easy. I struggled. I cried. A lot. I doubted myself. I felt so many different emotions all at the same time. I've really wanted to start documenting my journey - but I also wanted to use all my available time (and attention) to get to know Eila. Because her and I will be spending a lot of time together and it's challenging to hang out with someone when you can't always read their needs - or understand what they are telling you. Let's be serious - I am no baby whisperer. I needed to take as much time as possible to bond with her and I know I will be forever grateful for that time.
But let's be serious - It's hard to believe that tomorrow Eila will be two months old. I am sure I'll be saying this until she is fifty years old. I want to remember every moment, every struggle, every milestone. So I am going to backtrack a little and update on Eila's first month out of the womb - if I can remember anything.
One Month
Stats
Weight:
Eila started off as a healthy 9 lb 10 oz giant toddler baby, when we were discharged from the hospital her weight dropped to 9 lb 1 oz - by the end of the month she was back up to 10 lb 15 oz. Her weight gain has been slow due to some issues with establishing breastfeeding - but we are working on that.
Height:
Eila grew 4 cm bringing her to 60 cm long (roughly 23.5 inches long) - I initially thought she was 23 inches at birth but she was actually only 22 inches (or 56 cm).
Head:
It's a mystery to the midwives but Eila's initial head size wasn't documented on her clinic records - but at her last midwife appointment her head was measuring at 39.5 cm.
Clothing:
Surprisingly for her large size - Eila is long and lean and is wearing newborn clothes. All the 0-3 months stuff is way too wide and she is swimming in it.
Eating & Sleeping
Food:
I am excited to announce that we made it the full month exclusively breastfeeding. We both deserve an award or a pat on the back for this feat. Fist bump Eila!!! And seriously this is a topic that needs it's own post - so I'll spare the gory details. But I will mention that Eila has got the sucking reflex of a hoover vacuum - maybe even a Dyson (however I have never used one to make an accurate comparison) but trust me when I say it's strong. My nipples weren't prepared for this - and I'll just say that breastfeeding has been painful, and not this beautiful experience I was thinking it would be. We have struggled to obtain a solid latch but have had tremendous support from both our midwives and Steve. We now nurse about every 2-3 hours (mostly on demand) which works out to about 8-10 feeds a day.
Sleep:
I am going to knock on wood as I type this - but Eila is a fairly decent sleeper. She has her days, of course - she is a baby, but the majority of the time she'll go to bed around 10 pm and sleep until 2 pm and if we're really lucky she'll even sleep until 4 am. But on average she is only up once or twice in the night - which I am thankful for - but it does make for a lot of napless nursing marathon days.
Routine & Milestones
Routine:
There is no routine in this house. We sometimes jokingly call Eila the mini dictator since she calls all the shots these days - and truthfully we are okay with that. Basically the only routine we have is eat, play, sleep - but usually it goes eat, play, fight sleep and get super fussy. We plan to introduce a bedtime routine next month.
Milestones:
Since birth Eila has had great neck control - we swear that she was practicing tummy time while in utero. She can hold her head up for about 15 seconds and it's always, ALWAYS, so surprising. I'd also count learning to breastfeed as a milestone - because that shizz is hard work.
Social & Outings
First Road Trip:
At two weeks old we took Eila to visit her extended family in Fenelon Falls. She did amazing on the trip there (and back) and slept the entire way. It's roughly a 2 hour drive from our place. We stopped at a chip truck so we could refuel ourselves and so I could nurse before we arrived (a fed baby is a happy baby).
Eating Out
: Eila has been out to a restaurant twice, once to meet some of my coworkers and the second to meet our friends Dennis and Lauren - both times she slept contently in the
Beco Butterfly Carrier
. Thank goodness for baby wearing.
First Pediatrician Visit:
Since we had a midwife - we were set up to met a pediatrician for Eila. We both don't have a family doctor in town - so this came as a relief. Also we had to follow up with suspected heart murmur on day 4 - so we reluctantly packed Eila in the car seat and set off for our first visit to the doctors. She slept the entire time. p.s. The heart murmur cleared up as suspected.
Favourite Things
Baby Gear/Toys:
Babies are simple creatures - and don't really need much the first month and don't really like much more than eating, sleeping and snuggling with mom and dad. However Eila is a big fan of her
Fisher Price Snugabunny Bouncer
- especially the bird friends. It allows me to put her down long enough to make breakfast and SOMETIMES even take a shower. It's a glorious invention.
Hanging with Dad
: Dad's are great helping babies push out gas - Eila is a huge fan of this. Eila loves hanging on Steve's arm - especially when her belly is a little rumbly. She also loves their snuggle time when Steve gets home from work.
Favourite Pictures From the Month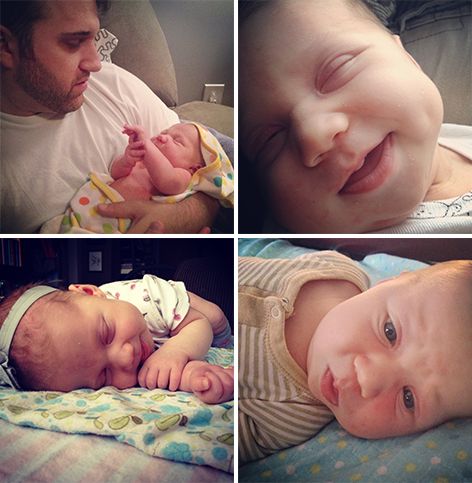 Follow me on instagram @e_dubb to get your daily (hourly) dose of Eila