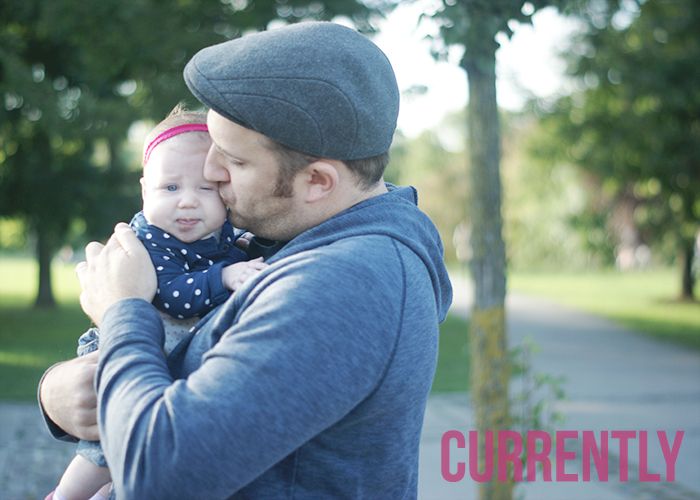 In an attempt to not let the weeks fly by and to capture what's been going on - besides spit up and poop explosions - I am trying to keep this blog current and up to date. But man it's effin' hard. Especially with a baby that won't nap unless she is in your arms. It makes getting anything done impossible. My mission is to try to get her to nap on her own - I have a feeling that this is mission impossible - but it's worth the effort.
Anyways - Steve is out tonight and I got Eila to sleep on my own. It's a miracle! Normally Steve rocks her to sleep - since she just wants boobies when I hold her. So I actually had a hands free moment. You'd think that I'd use this time to clean our terribly messy kitchen, take a shower, or do some laundry. No!! Instead - I cracked a beer and opened up blogger. It feels normal! So I think a currently update is in order...
Currently Needing
A nap time routine! I am not complaining because I enjoy the snuggles - and the fact that I get to squeeze in some zzz's but I really could use a change of scenery than the couch and terrible TV. I'd like to get some things done around the house. I feel so lazy - but so busy at the same time.
Also I am needing this crazy September weather to end. The past couple of days have been so hot - keeping us cooped up in the house. Thankfully Eila hasn't been too grumpy (the past few heatwaves have been brutal on both of us) and it's just made her sleepier and sweatier than usual.
Currently Reading
About
Baby-Led Weaning
. We've still got quite a bit of time before we introduce Eila to solids - but I want to be as prepared as possible for when we do. I am not sure what's going to work for us - but I really so like the approach of baby-led weaning. If you have any links to blogs about BLW send them my way! Randalin?
I am just a tiny bit excited about eating together as a family - I've even suggested to Steve that we start sitting Eila in her highchair (she totally isn't ready to sit in it). I've always imagined what it would be like to sit down as a family for dinner - at the table. Currently, Steve and I eat in front of the TV (it's a terrible habit) and I am hoping to break this soon so Eila doesn't think that eating occurs in the living room. I've been dreaming up ideas on how to make our eating space more....appetizing.....to make us want to sit there. I'm too embarrassed to discuss the state of our tiny kitchen nook - but excited to decorate it and make it a place we want to eat. Now - I just need to work out that nap time routine so I can get to work on it.
Currently Wearing
The worst wardrobe ever! Seriously. I am not sure anyone is envious of my spit up covered tees or milk soaked bras. And let's not talk about my army of sweatpants. Let's face it - I look awful these days. This lady is in total need of a shopping day. I am desperate to dive into a cute fall wardrobe. I am dreaming of tights, chunky sweaters, scarves, boots, etc. Now - I just have to figure out how to shop with a baby!
Currently Picturing
What life will be like when Eila is mobile! She is desperately trying to lift her head up when she is lying down. She'll roll to her side (from her back) and lift herself up on her arm with all her might - like a mini plank. This is how I found her in her bassinet this morning. Ummm....I am pretty sure she shouldn't be doing this yet?! Lady is determined to sit up. I am not ready for that yet. I miss my tiny little newborn.
Currently Expecting
Not much these days! It's hard to have any expectations with a 12 week old. I totally follow her lead - it seems to be working so far.