My infant is now a baby. I am equally happy and sad about meeting this milestone. I am happy because we survived the fourth trimester. Because Steve and I have grown as parents. Because Eila and I have started to really bond and get to know one another. And because the days are starting to get easier - not easy - but easier. However I am sad because those days are over. I can't get them back and I am sad because I didn't enjoy them as much as I could have. But I think the tough days, the struggles, and all the tears were an important part of this transition. It helped us bond and get to know one another.
Anyways - Eila is three months old now. And growing and changing so fast. Here is what happened in the last month.
Three Months
Stats
Weight:
Amazingly in the past month Eila packed on two pounds. At the last weigh in she was at 13 lbs 2 oz. putting her in the 75th percentile. I was really starting to doubt the quality of my boob-milk and our breastfeeding relationship. It's so reassuring to know that mama's milk is doing it's job.
Height:
Still at 61cm (24 inches) - though I don't think the doctor measured her correctly (and we have a new doctor) - I am going to measure her myself.
Head:
Again still at 40cm - same situation having a new doctor measure her.
Clothes:
Two pounds really makes a difference when you're a baby - we started off the month moving from newborn size to 0-3 months by the end of the month Eila is filling out the 0-3 months nicely. As for diapers - I think we purchased our last box of size 1 *tears*
Eating & Sleeping
Eating:
We are still exclusively breastfeeding - can I get fist bump up in here??!! Everyone tells you that breastfeeding gets easier - and it does. Thank goodness. And this month Eila has become a pro nurser. She is able to latch on and off on her own. She has become more efficient. And she is FINALLY gaining some baby chub. We are nursing around 7-9 times a day for about 10-20 minute sessions. I started feeding her on both breasts (I was block feeding on one breast each time because I was trying to heal my crazy damaged nipples) but Eila was taking in too much milk and spent at least 30 minutes after nursing spitting up. There was so much BARF!!! Total Barf City. We've gone back to one breast and the spitting up has gone back to a normal amount.
We also introduced a bottle for the first time this month. We did it in the morning after I fed her for a little bit. However she just sucked 3 oz back like she was doing a keg stand. Apparently if there is milk she'll take it. We have tried to give her a bottle a few times a week - just to get her used to it.
Sleeping:
Eila is still napping around 3-4 times a day - usually for 15-45 minutes and ALWAYS on me. Her night time sleeping is still going strong. She normally signals around 8 or 9 pm that she's ready to sleep, usually by rubbing her eyes or letting out some whiny cries. Steve will rock her to sleep - since I suck at getting her down. And half the time she'll usually sleep through to the morning and if not she'll usually wake up once to eat and will usually go back to sleep right after. The longest stretch we've had between eating is 10 hours.
Routine & Milestones
Routine:
Eila is probably ready for a routine - but I suck at them. I have never been good at sticking to them. However we have a
'sort of routine'
in the morning after her first feed we
'go to the gym'
where Eila will play with her friends and chat away for a good 30 minutes. This is when I eat breakfast - whether it's 5 am or 9 am - we then will take a long morning nap together. From there it's eat, play, nap, repeat until bedtime. Sometimes we'll go for a walk - but only if we're up for it. Our night time routine went out the window - but we plan to start one up again (maybe).
Milestones:
Rolling Over: Eila has rolled over from tummy-to-back twice, at 11 weeks old, but she hasn't shown much interest in it since. However she has improved greatly on her tummy time skills and can pull herself up into an awesome push up. And her neck control is outstanding. She is desperately trying to pull herself up into a sitting position when laying on her back. She totally wants to move.
Pull ups: Eila also wants to stand. When she is laying on her back I will let her grab my fingers and pull up. I think normal babies at this age go into a sitting position - but Eila springs herself to her feet. It's her favourite way to hang out.
Grasping: Eila is all hands and face - but she has figured out that she can hold on and grab things. She does best with her hanging toys on her activity mat - she still doesn't hold onto toys too well and needs a little help getting them into her hands.
Talking: I wouldn't quite call it talking but Eila started to make a lot more noise this month. She is the chattiest first thing in the morning when she is at the gym. She tells her Zebra and Owl friends about all the things she is going to do and probably about all her awesome dreams.
Laughing: Eila has yet to master laughing and any real legitimate laughs have all been heard while she's been sleeping - but she is trying so hard to let them out. She smiles so big with her mouth open and you know she is just trying to find her voice. Sometimes a little giggle manages to come out. I am so excited to hear this lady laugh and to learn her sense of humour.
Social & Outings
Social:
Eila is a happy baby (for the most part). When I say good morning to her she gives me the biggest grin - it makes me wonder where she got her early bird genes from, definitely not either one of us. She also will smile at almost anyone who starts up a conversation with her. She's okay with being held by others - except when she gets tired - at that point she needs mom or dad.
Outings:
We didn't get out of the house too much this month - but we did do a few things
First summer BBQ at our friends Nicole and Chris's place
Dinner with Nonna Val
Lunch in the park with our friends Krysten & Jonathan
First trip to the Historic Distillery District with Grandma Hope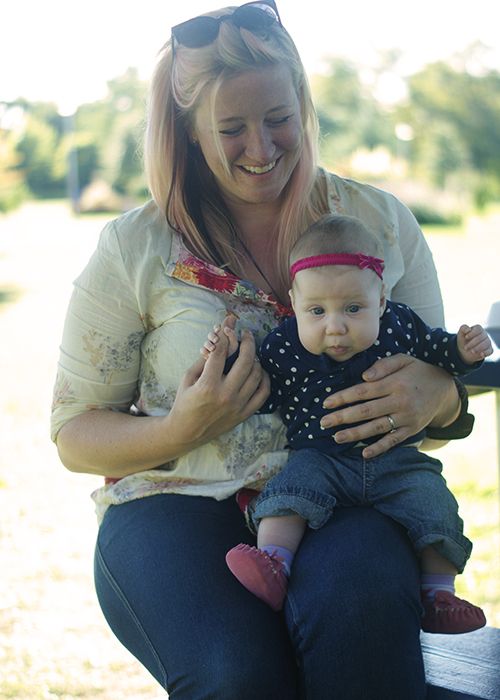 Eila & Krysten
Favourite Things
Baby Gear/Toys:
Eila is still enjoying her
Skip Hop Alphabet Zoo Activity Gym
however this month we introduced her to Sophie. She can't quite figure her out - but she does enjoy when I squeak her and make Sophie give her giraffe kisses on her noise.
Activities:
Eila loves sitting up (with support). She will lay down - but much rather be sitting on one our laps and looking around. She's gotten so curious this past month - she looks at everything. She loves watching everything I am doing - it's made getting some things done a little easier (now if only I wasn't so tired to tackle my giant to do list). Eila is also a huge fan of eating her hands, drooling, mama singing The Itsy Bitsy Spider and This Little Piggy, being outside (I really should take her out more), and being part of whatever it is we are doing.
Some dislikes - doing one activity for too long. She likes variety. I sometimes just turn her chair in a different direction so she can get a new view. I have a feeling she is going to keep me on my toes when she gets older.
Favourite Pictures from the Month
Again I rarely picked up our real camera to snap pictures. It's so much easier to use my phone.