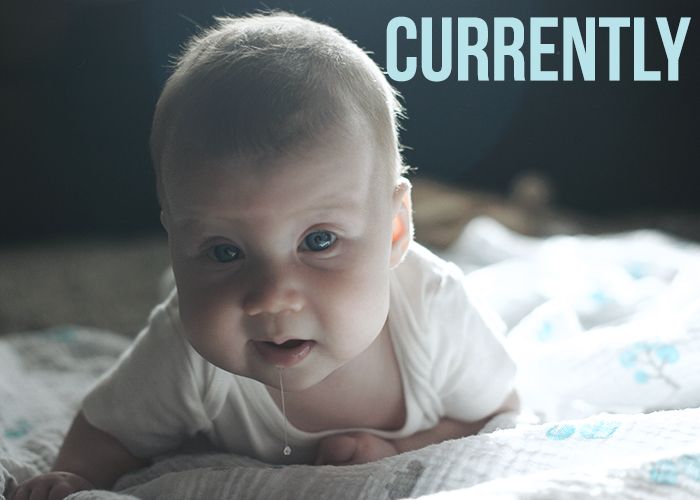 Do you see that adorable baby up there? That drooly, strong, ROLLING FROM BACK-TO-FRONT baby? That's right, Eila is now officially a roller. She's been working at it for awhile now - but just yesterday she seems to have mastered it. Now she rolls all.day.long. I know what's next - but I am in serious denial. I am going to carry her from now on - for the rest of her life.
I am in the process of preparing some posts on this whole I HAD A BABY - WHAT THE EFF?! Journey but thought I'd update you all on what's been going on around here besides babies turning
100 days old
.
I have been
looking
like a new mom. Unstyled
(usually day three or four)
hair. Spit up/drool/breast milk covered clothes. But I am
looking
to change that. We started our first Mom and Baby class last week - so I now have the motivation to get showered, dressed, and make-up'd at least once a week. Nothing like other moms pretending to be put together to motivate you.
I am
making
plans to transform our previous dining area into a play area for EJ. Originally I thought she'd play in her room - but it just makes more sense for her to play near the living room and the kitchen. I've been searching Pinterest for inspiration (and my bank account for some cash to make it happen). In hindsight I keep thinking about all that time, energy, love and money spent on creating a baby room - a room that we now use exclusively for diaper changes and occasional story time. We should really start
making
it a habit to hang out in there more. It's the nicest room in our apartment.
We have been
wondering
when EJ is going to laugh. She's been on the verge for awhile now - but just lets out little noises (or nothing at all). She does however smile with her whole face. She basically smaces. Hashtag that #smaces. Which reminds me that I have been also
wondering
how I am going to explain to EJ that she was born into an era that people speak in hashtags. We could probably just use this
JT and Jimmy Fallon clip
. #thanksJTandJimmyFallon. But for realsies - do kids talk like this in real life? Like are they now saying #burn instead of just burn. And for that matter - do people even say BURN anymore? Did I just date myself? Moving on.
I have been
playing
with Eila - like it's my job - literately. I feel like she's doing circuit training because she usually can only stand any activity for about that period then she is ready to move on to something else. Needless to say I have also been
looking
at ideas on Pinterest on how to entertain and 'play' with a nearly 4 month old baby. Because seriously - how many times can one person sing the Itsy Bitsy Spider in one day? We are hoping to learn some new play activities in our mom and baby class.
Lately I have been
wearing
down. I think my erratic sleep patterns have caught up to me. What I wouldn't give for a solid, uninterrupted sleep! Our new wake up time is anywhere between 6:30 a.m. and 7:00 a.m. these are both times that were unfathomable pre-baby. It makes for really long tiring days for this night owl mama.
What have you currently been doing? Link up here!!