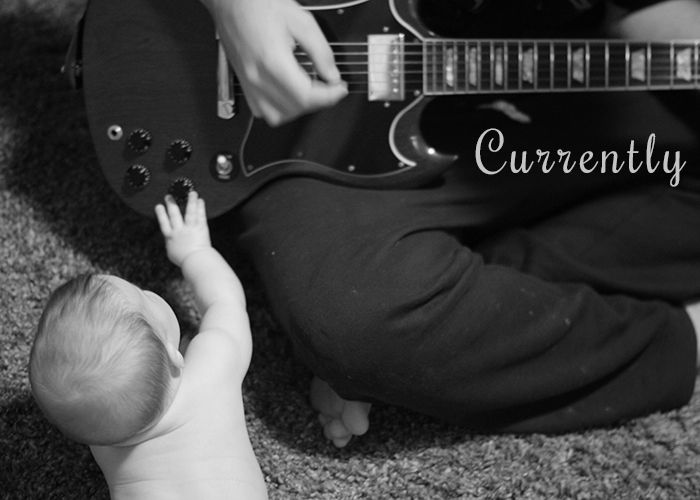 So basically I post two kinds of posts - monthly updates and currently posts. That needs to change. But how? How do you mama's with babies do it? I have SO much I want to document - but when I finally get a free minute there are so many things to do like; dishes, the laundry, cleaning the floors, sleeping!! And sometimes (most times) those things don't even get done. Which is a good segue into.....
Currently
I am currently
resolving
a few things for 2014. Last year I was pregnant so I didn't set any goals, except one, to survive birthing a baby and adjust to motherhood. I think I met those goals - though I am still adjusting. However, this year, I want to make a few small changes;
Cook more: since Steve and I are parents now it's important to us that we set a good eating example for Eila. Pizza, chicken wings, and occassianal Harvey's runs (though delicious) aren't really setting the family meal tone. So last week I signed up for a meal planning service called The Fresh 20 recommended by an Instagram friend and so far it's been great. It's definitely easier to cook dinner when I don't have to actually decide what to cook. I am also hoping to cut our grocery bill down - because that shit is expensive.
Blog more: I don't want to blog like I used to - I want to simply blog to preserve our family memories. To document Eila's growth, development and milestones. Because time slips away too fast - and suddenly you're the mom of a six month old. I can't imagine how I'll feel when she's 5, 10, 30.
Create more: I did not sew one single thing in 2013. I did start to crochet a blanket for Eila, but never finished it. I am a notorious project starter and never finisher. So this year I want to embrace my creative side. Sew. Craft. Bake. Design. whatever it is - I need this in my life.
We are currently
anticipating
Eila's first real run in with the cat. They have been getting more acquainted now that Eila is on the go - thankfully the cat is still a bit scared and/or unsure about her. My fear is for the day she sneaks up on him. We are thinking about getting
these put on his nails
- because dude won't let us cut them.
We are currently
eating
our first weekly meal plan from
The Fresh 20
- last night we had Hot Chicken Legs with Blue Cheese Kale Potatoes - OMG!!! So delicious. So far two out of three recipes have been successful - two more to go.
I am currently
making
plans for childcare for Eila - or at least I am thinking about making plans. With less than 6 months until I go back to work - I really need to get on top what we are going to do with her. I hate even thinking about it - it makes me sick.
I am currently
remembering
how much I HATE WINTER! This winter has been exceptionally ridiculous. Thankfully I don't need to be outside - but wait - I WANT TO BE OUTSIDE. Eila loves the outdoors. We need to get out and cruise around the neighbourhood. We both are going a little stir crazy. We are looking for the weather to
warm up
a bit this weekend. Because -35 weather (with wind chill) is straight up crazy.
What's been going on with you?