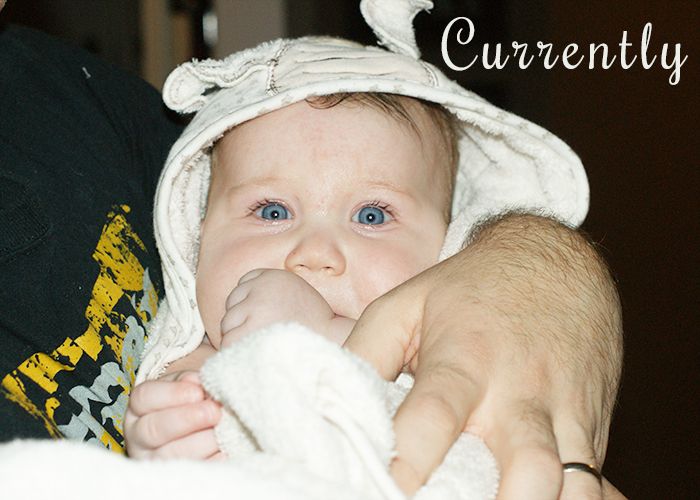 Oh hey there! It's the afternoon, on a Thursday, and I am blogging. I am blogging because I have a napping baby (GASP!). A napping baby that isn't in my arms (GASP!). A napping baby that's been asleep on the floor beside me for the past 10 minutes (that's usually her limit). It's nice to enjoy this short break. Plus she's been struggling with teething the past few days - so we both need the rest.
So what's been going on? Here's what we've been up to.
Yesterday we took Eila to the doctor because for the past month or so she's had a pretty persistent rash. It hasn't been too concerning because we had it under control, it would come and go. But last week we introduced a few new foods, overheated her in an awesome sweatsuit onesie and took her swimming in a chlorinated pool. Needless to say this made for a really angry rash. All over her body. After some research Dr. Google diagnosed her with infant eczema - our doctor confirmed this with a real diagnosis and a prescription for some hydrocortisone cream and sent us on our way. So needless to say I have currently been doing extensive
reading
on Infant Eczema. The flare up seems to be under control now - but I really want to avoid any triggers. So basically that means we need to move from Canada to somewhere hot (preferably near the Ocean) to avoid dry skin. I've started packing already. If you have any good resources - send them my way. Thanks!!
I am currently
loving
winning! Seriously - so far this year I have won two giveaways. I won a beautiful headband for Eila from one of my favourite Etsy shops,
GingerPop Boutique
(though the shop is currently on hiatus for a maternity leave) but here is a picture of the headband (I haven't decided when Eila will make her debut with it).
And just this morning I found out that I won a
T Fal 2 in 1 Steamer and Blender
from
NuBaby
(this is where Eila and I have been taking our Mom and Baby classes). I am pretty excited to try out this contraption - though we are introducing solids with Baby Led Weaning - I am sure this will come in handy for those foods that aren't so easy for her to handle yet!
I am currently
cooking
all new recipes from
The Fresh 20
. We're on week 3 and so far most of the recipes have been amazing - there have been a few that we didn't bother with because they didn't sound great (or I knew Steve would hate). But there has been a few recipes that we'll add to our ongoing meal plans. Like the Hot Chicken Legs with Roasted Kale and Blue Cheese Potatoes (UMMM....YES PLEASE!!!).
What am I not
avoiding
these days? It's awful. The biggest thing is thinking about childcare for Eila in June. We've started the process and I hate even thinking about it - so I won't. What else? Oh we are totally
avoiding
baby proofing our entire apartment. We really need to realize that she's on the GO! She's ready to explore.
We are
laughing
at
An Idiot Abroad
. Have you watched this series yet? If not you must, if you have you should watch it again. It was just released on Netflix. It's SO funny.
And perfect timing - Eila just woke up! Time to chase her around the house. Good thing she can only crawl (for now). Link up your currently post over
here
.