As part of my Journey Into Motherhood series - I think it's important to recognize that the first 100 days (three months) of a babies life is hard - FOR EVERYONE involved. When you are not commencing your 5 S's Ritual (Swaddling, Side Positioning, Swinging, Sushing, and Sucking) your baby to sleep - you're breastfeeding - or holding/bouncing/wearing a baby.Steve and I celebrated surviving this milestone by eating cake and celebrating
the 100th day
. I had started this post awhile ago - and thought that I'd keep the content - since it's reflective of how I felt at that moment. So here it is:
Journey Into Motherhood: The Fourth Trimester
Last friday at 7:12 p.m. Eila turned 13 weeks old (now she is 32 weeks old). Tomorrow she will be three months old (now she is 7.5 months old). And next Saturday she will be 100 days old (I have no idea how many days old she is now). I can't believe that we have come this far. I can't believe that all this time has already past. I can't believe we survived the fourth trimester. Trust me it wasn't easy - it still isn't easy - it's just a little less difficult.
I remember those days leading up to the birth - all the preparing and planning - and all the shopping. Because I needed to have everything thing in place. I needed to be prepared. Because I didn't know what babies needed and in my mind - babies needed everything. Honestly I could have held off on the crib and the stroller and saved a few bucks. In the past 13 weeks we have used the stroller a total of three times (maybe five times now) and the crib - well that now serves as a place to store clothing, toys and other miscellaneous baby items (we just started using the crib last week). But there are a few items that really helped Eila, Steve and I survive the fourth trimester together. I've left out all our breastfeeding care items - because that is a post in itself.
So with this - I prepared the quintessential blogger
top ten new mom must have's list
because a) maybe one day I will want to have a baby again and I would like to be reminded of the things that made that transition period a little easier and b) who doesn't like a like of recommended favourites?
Here it is...(But keep in mind - I stink at reviews)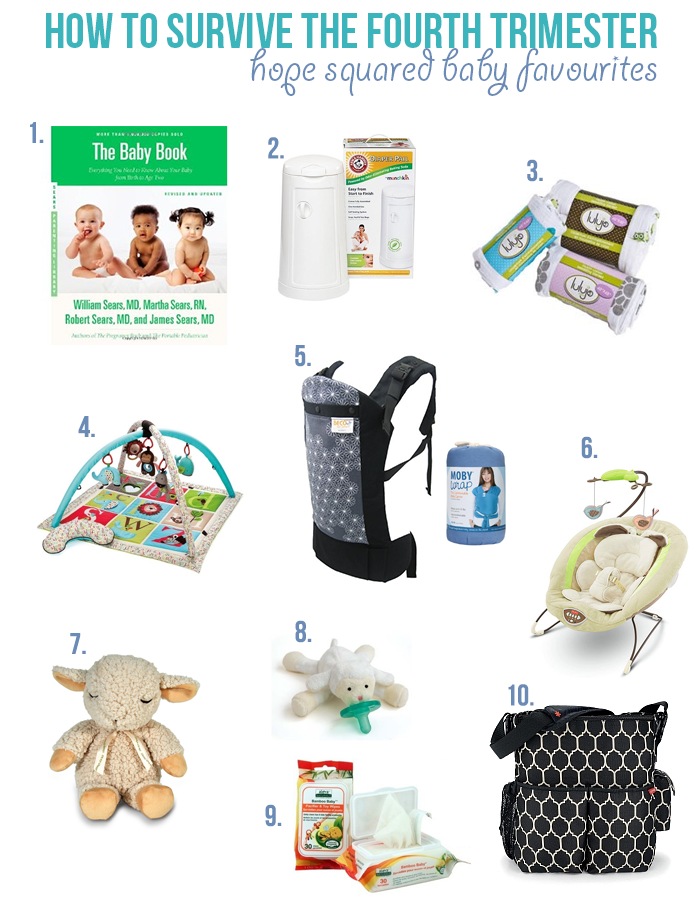 1. The Baby Book (part of the Sear's Parenting Library)
: I purchased this book before I had Eila - but barely cracked it open. I regret that now - not learning more about parenting and breastfeeding while I was pregnant. I spent so much time learning about being pregnant when I should have been reading about what life with a baby would be like or Breastfeeding. In hindsight I would have used that time to learn about the time afterwards. The Baby Book is laid out nicely that you can easily read sections on all your FAQ's. During those first few weeks postpartum - I spent a lot of time reading this book and I still find myself picking it up and rereading sections whenever I am in doubt - or have a new question - or need to reconfirm my confidence in my decisions. It's a definite must have in any new or seasoned mom's arsenal of baby/parenting books.
2.
Arm & Hammer Diaper Pail
:
No one likes the smell of dirty diapers - this little bin is magical. 8 months later and we are still going strong. The only downside is that you need to purchase the liners - I haven't yet come across a generic version.
3. Muslin Swaddle Blankets:
I came across the Lulujo Muslin Swaddle Blankets (very similar to the Aden + Anais blankets but half the cost and from a Canadian company) at the Baby Times Show last springs. We picked up two of them for $10 each. They are perfect for swaddling a summer baby (though Eila only tolerated being swaddled for roughly two weeks) They were the perfect blanket for those hot summer days to shade Eila from the sun. And I still find that we use them in the house for a light blanket.
4. Activity Gym:
This is something that we totally should have registered for because we could have used it right from the beginning. It got a tremendous amount of use. Steve and I ended up picking up a
Skip Hop Alphabet Zoo Activity Gym
when Eila was just a few weeks old. It was my savior - so I could eat, drink a coffee, take a break, go to the bathroom. Eila loved hanging out with her zoo friends - she'd spend a good amount of time in the morning chatting away to them.
5. Baby Carrier/Wrap:
I purchased a
Beco Butterfly 2
a month before Eila was born - probably around the same time I blew our life savings on our stroller. The Beco was one of the best purchases I made. Though I couldn't wear Eila the first month because my nipples were in rough shape - I definitely used it a lot afterwards. I rely on public transit to get around the city - I tried using the stroller once on the bus and vowed to never do it again. It was so much easier to pop Eila in the carrier and be on our way. Plus she was happier (and I loved having her close).
6. Bouncer Chair:
Best invention ever. We were gifted the
Fisher Price My Little Snugabunny Bouncer Chair
and I literally cried when we had to put it away. It wasn't obnoxious. And Eila loved it. I'd just put her in it, put it on vibrate, pull it close to rest my foot on and bounce her to sleep. I was thankful becuase she wanted nothing to do with the swing. I think she had a one day love affair with her swing until it made it's way out the door. This chair was awesome - until she learned how to climb out of it.
7. Sleep Sheep on the Go:
Maybe the second best invention ever. The sleep sheep not only helped lull Eila to sleep - but it was also relaxing for Steve and I - and there wasn't too much that was relaxing in those early days. I liked the travel sheep because we could bring it around with us, in the car, etc. My only issue is that it shuts off automatically after 45 minutes and the silence is deafening and has woke Eila up. I wish it would just play ALL.NIGHT.LONG!
8. Soothie:
I always thought I would be one of those moms that NEVER used a soother. I caved around day five. My nipples weren't out for the constant comfort sucking (not then anyway) and Eila just wasn't coordinated enough to get her thumb in her mouth. So out came the soothie - and life got better. I feel it's a personal decision if you want to use on or not - I am on team whatever works and calms your baby DO IT. Flash forward - Eila now rarely uses a soothie, but sucks her thumb. We never tried any other brands of Soothers, besides the Phillips AVENT Soothie (and the
Wubbanub
which I suggest you save yourself the $15 since Eila just ended up pulling the Soothie out of her mouth constantly).
9. Pacifier and Toy Wipes:
I don't know how many packs of these we have gone through. Toys and Soothies get dropped and you aren't always in a place where you can wash them right away. Of course if the place is gross (like a bus) I just toss them out - but these have been a lifesaver.
10. Diaper Bag:
In the beginning I stuffed the diaper bag with everything. I was afraid to leave the house without all the essentials (that pretty much meant my entire change table). It's funny now because I am now just comfortable with a diaper, a pack of wipes and a change of clothes. But for a new mom - that diaper is ESSENTIAL!
These are just a few things that helped Steve and I needed to help with the transition from life with a baby on the inside to life with a baby on the outside - and definitely made that fourth trimester a lot easier! What did you use to survive that transitional period?
Journey Into Motherhood Series
//
Introduction