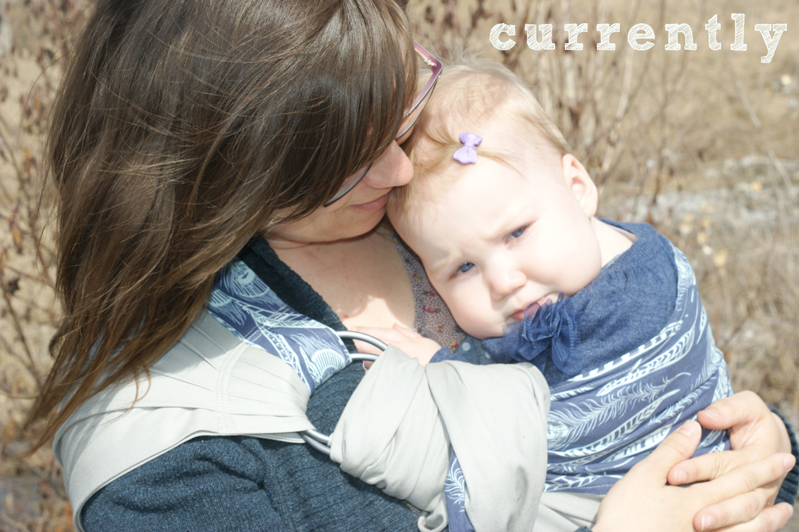 The weather has been fabulous - minus a few cold pockets - but other than that Eila and I have been enjoying afternoon strolls and snoozes (well she snoozes and I walk at a steady pace to keep it that way) in the sun. Yesterday we walked to the indoor playground for a play date - that's an 8 km walk (round trip) needless to say I am totally out of shape and my legs are sore today. But the sun is shining and I am ready to hit the neighbourhood this afternoon. Other than lazy spring days - this is also what we've been up to.
Eila is currently
making
my heart skip a beat with fear and pride. She decided last Sunday that it would be a good idea to start walking unassisted. Before that she had only taken a few odd steps here and there - most of which we thought were fluke steps. However on Sunday after the Easter festivities Eila decided that a room full of family was where she wanted to test out her new found courage. She pulled herself up and just went for it. She took three consecutive steps. And then she bailed on the carpet and there was blood - in her mouth. I was equally proud and terrified. But I scooped her up and offered to nurse and she recovered nicely. Since then - she hasn't stopped - in true Eila fashion and has a nice bruise on her face. Just yesterday she took nine consecutive steps - fell down and took five more. WTF??!! and then the cat ran by and I swear she literally ran after him. I am pretty sure the cat also exclaimed "WTF?! She can walk now?"
Eila and I are currently
eating
soccer mom orange slices. Sadly oranges don't taste nearly as awesome as they did when I was pregnant - but I do like a good orange. So far Eila's favourites are minneola and cara care oranges - both of which I devoured while pregnant.
Steve is currently
enjoying
how excited Eila is when he gets home from work. As soon as she hears the door - she bolts for it. She has also started waving so if she's too busy to crawl over she'll just give him a wave and a huge grin. I know one day, way too soon, I will appreciated this as well after a long day of work.
I am currently
hiding
the fact that my maternity leave is almost over. I am just flat out not looking at the calendar. What day or month is it? Who cares - I just don't want to know. While I am eager to get back into a routine and challenge my brain again - I also enjoy my days home with Eila. Playing games, cooking lunch, going on strolls, afternoon napping! I just can't believe it's almost over and we are moving on to a new phase in our lives.
I am currently
noticing
how much Eila has changed in the last month. She has become less like a baby and more like a little girl. The way she moves. The way she plays. The way she babbles. There is still a little baby in there somewhere - it's just not as noticeable these days. She is basically 10 months going on 3 years.